/

/

Astroblems – Ancient Scars on the Surface of the Earth
04/08
Home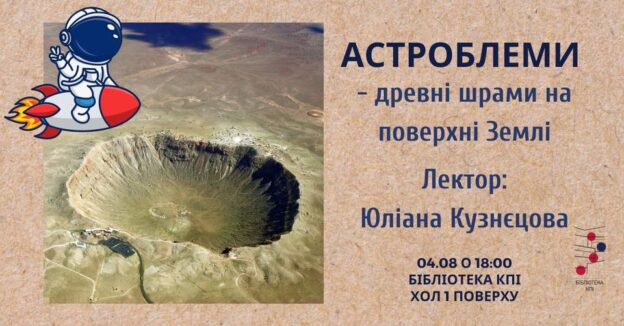 Lecture «Astroblems – Ancient Scars on the Surface of the Earth» as part of the «Peaceful gatherings» project. During the lecture you will learn about astroblems – ancient structures on the surface of our planet, formed as a result of the fall of asteroids or comets.
Lecturer – Yuliana Kuznetsova, researcher at the Department of Physics of Substellar and Planetary Systems of the Main Astronomical Observatory of the NAS of Ukraine.
The event is open. Language of the event is Ukrainian.
We are waiting for you. It will be scientific!
Please do not forget that you need to have a student ID, pass or passport with you.
Join «Peaceful gatherings» on social media:
Facebook.
Telegram.
Бібліотека КПІ
04 серпня 2022 р., 18:00