/

/

Discussion: «Synergy of orientations: what to do with libraries after...
30/09
Home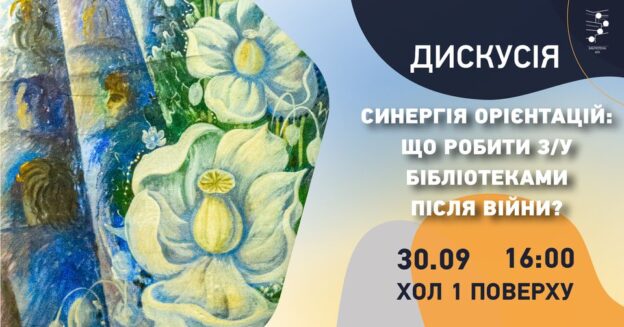 On the All-Ukrainian Library Day, the KPI Library invites Good library! @Luhansk OUN_B #traveling_library
We meet in the hall of our library for a live discussion:
how do librarians talk about the war now and how to talk about it later?

do library users themselves see this conversation about war? What formats, approaches are more suitable?
accelerated transformations in libraries as a reaction to a full-scale invasion: what was saved and what was forever abandoned?
occupation from the inside: how can the experience of the occupation be used to one's advantage?
what challenges and crises will librarians have to face after the war and what way out of the traumatic situation is there already?
Among the speakers of the discussion:
Levon Azizyan – human rights defender, animal rights activist, Wikipedian, local historian, organizer of cultural and environmental events in Severodonetsk;
Oksana Bruy – president of the Ukrainian Library Association, director of the KPI Library;
Arif Bagirov is a blogger, journalist and local historian from Severodonetsk.
Vladyslav Fesenko – blogger from Starobilsk;
Yulia Bilovytska – librarian of the Severodonetsk City Public Library;
The event will be moderated by Good library librarians Yulia Lysyuk and Anastasia Litashova.
To visit the Library, you must have a student card, pass or passport with you.
Watch the broadcast of the event:
on the Good library Instagram page.
and YouTube channels of the KPI Library.
Бібліотека КПІ
30 вересня 2022 р., 16:00