/

/

Checking academic texts for signs of plagiarism: online blitz
26/05
Home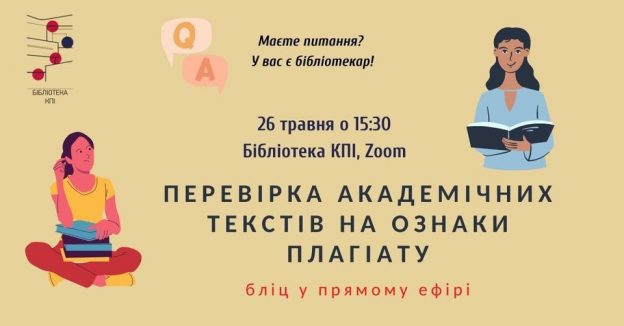 We invite KPI students and KPI researchers on the 26th of May at 15:30 to ask everything they have wanted for a long time about checking academic texts for signs of plagiarism. 
Namely, get answers within the following topics: 
Why academic texts are checked; 

Who checks them and how; 

Which academic texts are checked in KPI; 

At what stage the inspection is carried out; 

Indicators of originality and borrowings; 

How many quotes can be; 

Allowed percentage of plagiarism; 

Who can decide on the presence of plagiarism; 

What happens after the inspection; 

Who to contact if you do not agree with the expert opinion. 
The meeting will be held on conditions of prior registration.
A link to the Zoom conference will be sent to your email address on the day of the event.
Бібліотека КПІ
26 травня 2021 р., 15:30