/

/

Powerful weapon of Kharkiv production – Vivat publishing house
19/04
Home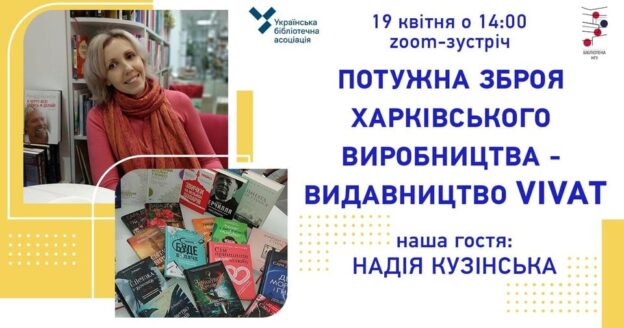 In these turbulent times, every Ukranian has chosen a weapon in the fight against the enemy for our victory in russia's war against Ukraine.
The weapon of Vivat publishing house is the support of the Ukrainian reader, wherever he is now.
During the meeting with Nadia Kuzynska, a representative of the publishing house, we will find out:
how the publishing house works in conditions of war;
how the publishing house interacts with higher education institutions;
about free access to e-books;
which of the foreign authors whose books were published in Vivat in Ukrainian supported Ukraine;
which of the well-known Ukrainian publicists, whose books were published by the publishing house, defend our country in the ranks of the Armed Forces or the Territorial defense;
about future plans.
We invite you to a meeting on April 19 at 14:00 on the Zoom platform. We are sure that our communication will be interesting.
A link to the Zoom conference will be sent to your e-mail on the day of the event.
Бібліотека КПІ
19 квітня 2021 р., 14:00