/

/

On the history of KPI university laboratories
27/10
Home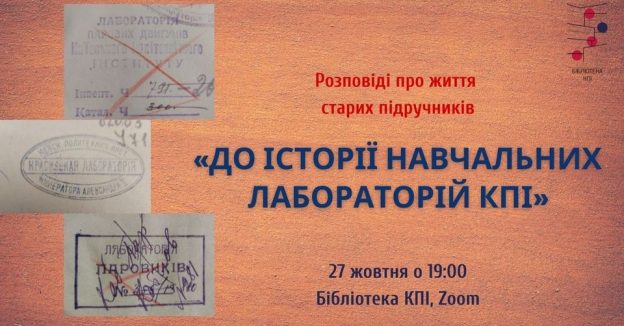 We invite you to the next lecture of the cycle «Stories about the life of old study books» that will be held on the 27th of October on the Zoom platform at 19:00.
The topic of the lecture is «On the history of KPI university laboratories». Seals and stamps of various divisions of the Institute have been left on the pages of many publications of the library.
And quite a lot of them are the seals of some laboratories: «Политехническій Институтъ. Лабораторія технологіи органическихъ веществъ»; «К.П.И. Библіотека Лабораторіи неорганической химіи»; «Красильная лабораторія Киевс. Политехнич. Инст.»; «Металургічна лабораторія Київського Політехніч. Інст.»; and others.
The questions that will be the subject of the next conversation are: when the laboratories were formed, how they worked and what they taught, which of the professors supervised the practical and laboratory work.
Employees of the rare and valuable books collection will try to open another interesting page in the history of Igor Sikorsky Kyiv Polytechnic Institute. 
Hurry up to register.
Link to the Zoom conference will be emailed to you on the day of event.
Бібліотека КПІ
27 жовтня 2021., 19:00