/

/

«AcademicIntegrity: values ​​in daily actions. Ordered works»
20/10
Home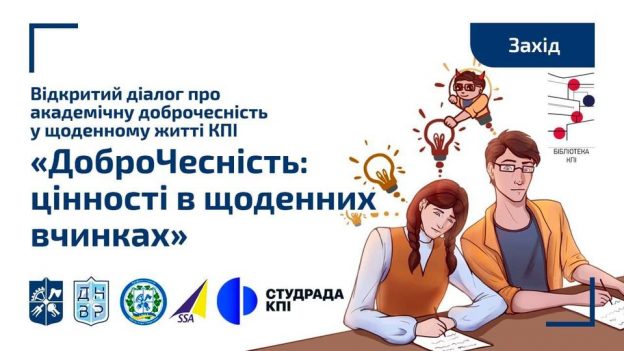 We invite you to join the open dialogue «AcademicIntegrity: values ​​in daily actions. Ordered works».
Every third Wednesday in October is the International Day of Action against Contract Cheating, established by the International Center for Academic Integrity (ICAI). This day is designed to draw attention to the most pressing problem of today's education and ask questions: why do students buy works, and some – write works that were ordered, what is their motivation and how to deal with this widespread phenomenon today. 
In the spring in the space of Igor Sikorsky KPI the first open dialogue about dishonest behavior among students and writing off as one of its main manifestations was held. On the 20th of October, there will be a second open discussion on academic integrity in daily university life, and the main topic will be ordered assignments. The event is held jointly by Department of Student Affairs, Library, Students Council, Trade Union Committee and Student Scienсe Association of Igor Sikorsky KPI. 
The following issues will be raised during the dialogue: 
What motivates one student to order works, and other – to write the ordered works; 

How to distinguish the purchased work from the authentic work of the student; 

How to prevent bad behavior among the students and overcome existing problems and more.
 Registration by the link. 
The event will be held in compliance with anti-epidemic requirements, so the number of places for face-to-face visits is limited. Anyone else can join the online broadcast (link coming soon). 
Бібліотека КПІ
20 жовтня 2021., 16:00