/

/

GoodIntegrity: values in everyday actions
18/05
Home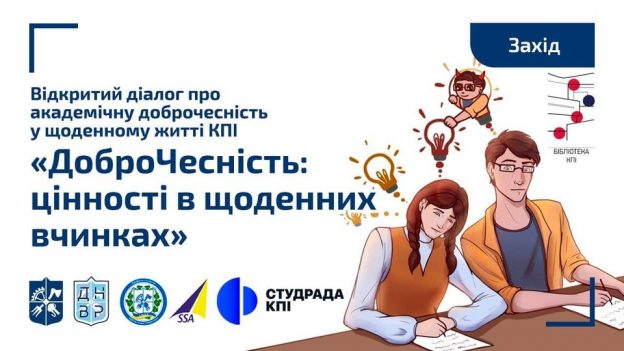 We invite you to join the open dialogue «GoodIntegrity: values in everyday actions».
On the 18th of May first open discussion will be held in the students space on the theme of academic integrity in everyday university life.
The event is conducted commonly by the Department for Student Affairs, Library, Students Council, Professional Committee and Igor Sikorsky KPI Scientific society of students, graduate students, doctoral students and young scientists.
Academic integrity is one of the main values to which the attention of the entire educational space is directed. Copywriting and biased assessment are serious and pressing issues that cause a lot of controversy and disagreement, both among students and teachers. That is why we want to thoroughly discuss these issues and work together to find ways to solve them.
The aim of our event is:
Discussion of the implementation of the principles of academic integrity among students;

Open and honest discussion with students about writing and biased assessment;

Finding ways to overcome the challenges of higher educational institutions on the formation and keeping of the principles of academic integrity in the educational environment.
After registration you will receive confirmation e-mail containing information about joining the meeting.
Бібліотека КПІ
18 травня 2021 р., 15:00