/

/

Sci-fi writers from different worlds
20/04
Home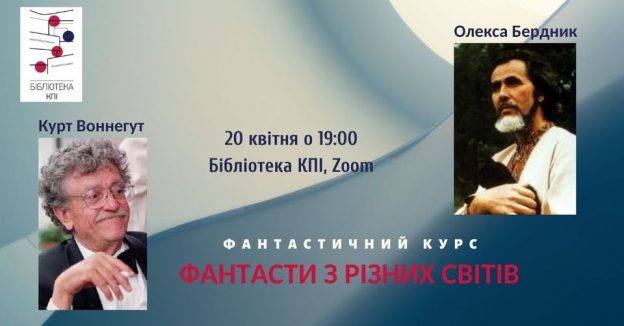 On the 20th of April at 19:00 there will be thenext meeting of Fantastic course! Moderators Ievgeniia Breznytska and Irina Filonenko will tell about the dissimilar Oleksa Berdnyk and Kurt Vonnegut.
Master of extravaganza Oleksa Berdnyk
Cult Ukrainian sci-fi writer, futurist and globalist, philosopher and theologian, public activist and political prisoner. 
In his books the past is intertwined with the future, concentrating on Ukraineintersects with the cosmic purpose of man existence. «Way of Titans», «Arrow of Time» are the classics of Ukrainian science fiction, and «Star Corsair» became author's second name.
Sci-fi writer and satirist Kurt Vonnegut
Cult figure of the twentieth century literature. American writer who united in his books satire and black humor, science fiction and realism, the purest truth and graphics. Kurt Vonnegut raised serious topics, but wrote in such a way that they were perceived easily and with laughter. His books «Slaughterhouse №5», ' Cat's Cradle'is  impossible to forget,  although the author himself is hardly remembered.
Lecture will be held in zoom, registration is needed.
Link on the conference will be sent to your email in the day of lecture.
Бібліотека КПІ
20 квітня 2021 р., 19:00