/

/

Fantastic Course 3.0: Horror Fiction
20/10
Home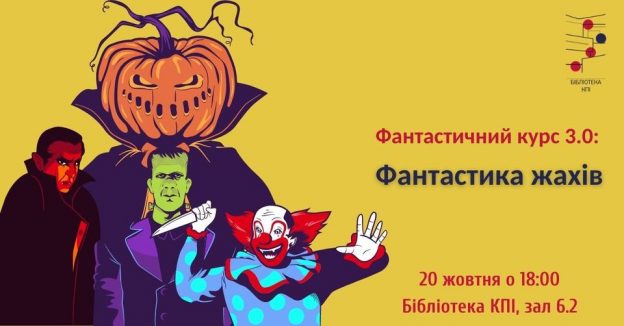 Halloween is approaching – the time of costume parties, carving a lantern out of a pumpkin, and telling scary stories. 
So we want to talk about horror fiction. 
In ancient times, fear was giving a person a chance to survive in a dangerous, hostile world. But even now, in a comfortable and safe today, we strive to bring an extra dose of fear into our lives: thrillers, media, dangerous attractions. As paradoxical as it may sound, people like to be afraid! 
We will tell about the horrors that began with Gothic novels, rose to incredible heights thanks to Edgar Allan Poe, descended into the eerie depths of the afterlife with Howard Lovecraft, fed by Robert Bloch, Dean Kunz and finally overflowed and flooded all the shores by the texts of «King of the Horror» – Stephen King. 
This is a Fright Monster, who liked the feeling of fear, the feeling of complete loss of control over their feelings since childhood. A writer who writes so slowly that the reader realizes that he is in the hands of a maniac of the highest quality. But describes fictional horrors in order to help a person cope with the real ones. 
Let's talk about Stephen King?
 And the most interesting will be your favorite «horror stories», which we hope you will share with us! 
We are waiting at the reading room 6.2, on the 20th of October at 18.00 
Moderators: Yevhenia Breznytska and Iryna Filonenko. 
Don't forget about masks. 
Бібліотека КПІ
20 жовтня 2021., 18:00