/

/

Fantastic course: The most famous and the forgotten
30/03
Home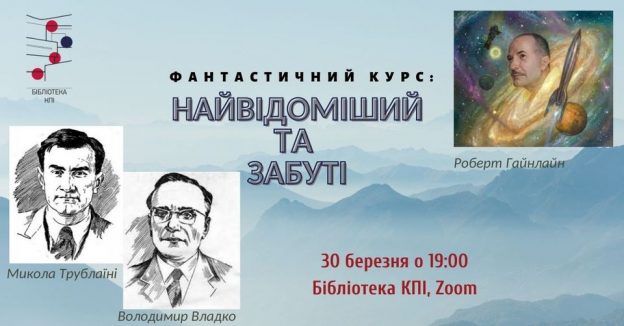 On the 30th of March at 19:00 lecturers of Fantastic course Ievgeniia Breznytska and Irina Filonenko will tell about three authors at a time!
The cycle «Luminaries of science fiction» will be closed by the story of the Most Famous – Robert Heinlein. 
Heinlein-preacher, Heinlein-ideologist, the Great Heinlein – and just a good writer Heinlein, whose texts are read nowadays as well. People's science fiction writer of America! No wonder that the Library of Congress included the novel «Stranger in a Strange Lan» into the list of «Books that Shaped America».
And we start the new cycle «Forgotten Ukrainian science fiction» (due to numerous requests of participants of Fantastic course) with Ukrainian writers Volodymyr Vladko and Mykola Trublaini.
We will discuss the first Ukrainian work about space flight «Argonauts of the Universe» and the first Ukrainian historical fiction «Descendants of the Scythians» by Volodymyr Vladko. And also we will discuss Mykola Trublaini's science fiction novel «Deep Way» about construction of a tunnel between Moscow and the Far East for high-speed movement of trains. 
The lecture will be held on conditions of pre-registration.
Link to the conference on Zoom will be send to your e-mail on the day of lecture.
Бібліотека КПІ
30 березня 2021 р., 19:00