/

/

Fantastic course, the return: Ray Bradbury and Roger Zelazny
22/12
Home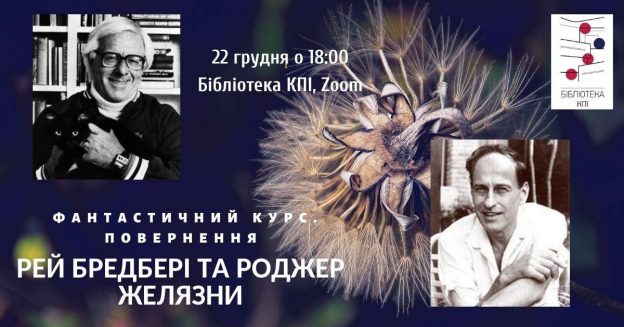 Our meetings were stopped by the quarantine. But we haven't told you everything. Let's meet again, now online?
On the 22nd of December at 18:00 we will talk about Ray Bradbury, who is always in trend and popular. And about Roger Zelazny who has been a little forgotten, and that is wrong.
Ray Bradbury. He was called «good old storyteller», and he himself thought he «was created by the books». He knew since he was 12 that he would be a writer and dreamed to be buried on Mars. He created new genre of autobiographic fantasy, but his works are considered to be beside the genres.  He is the author who teaches people to imagine and to think.
Roger Zelazny is the leader of New wave movement in science fiction, when the sci-fi writers paid attention to the humans and their inner world instead of robots and space ships.
While studying Roger Zelazny did judo and martial arts, wrote poetry and sci-fi novels, learned to play chess, learned Hindi and Japanese, was fascinated by the meditation and mystic, mythology and psychology. And then all those knowledge he used in his books: both in fantasy and science fiction, and he was a master to mix those genres.
To visit Fantastic course, please register via link.
Бібліотека КПІ
22 грудня 2020 р., 18:00