/

/

Vivaldi phenomenon: online lecture of MusClass project
27/01
Home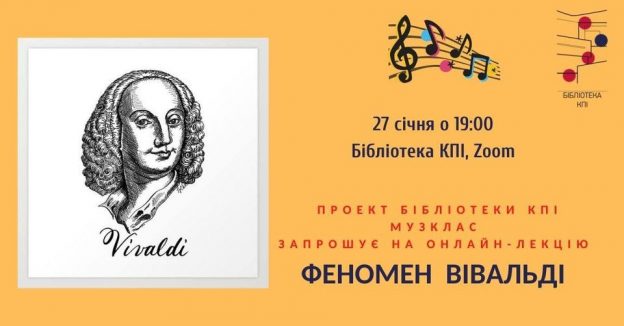 he last genius of Italian Baroque. Italian Bach. Red padre. Composer, whose music, being serious, is still understandable to everyone.
That is all about Antonio Vivaldi! How Vivaldi managed to become desired music companion to everyone? Why avid supporters of light music genres, who think that classic music is weird and boring, make an exception for Vivaldi?
Everyone is excited about his music, and that excitement is sincere.
MusClass project invites you to share excitement about classical works of Antonio Vivaldi that became hits for ages and conquered millions of admirers.
Online meeting will be held on 27 of January at 19:00 at Zoom platform, registration needed.
Бібліотека КПІ
27 січня 2021 р., 19:00