/

/

XX Radio Dictation of Unity
09/11
Home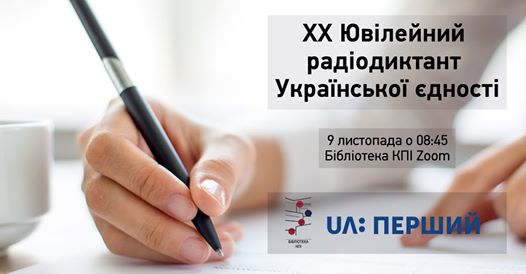 «And now prepare your pen and paper. We are writing dictation!»
Amazing! Your hands used to sweat, and you wanted to run away from the lesson hearing that phrase before, but the next week it will unite thousands of Ukrainians around the world!
On the 9th of November on the Day of Ukrainian Language and Writing the XX Radio Dictation of Unity will take place.
Special project organized by the Suspilne Radio gathers people who love native language and are proud of being Ukrainians!
The event will start in studio of UA Pershyi, and also in the air of UA: Ukrainian Radio and UA: Radio Culture. The written works will be accepted online and offline. The letter on the paper can be sent to the address: Kyiv city, Khreshchatyk street, 26, 01001. It is important that postmark with the date sent was not later November, 10. Online works can be applied to the e-mail rd@ukr.radio .
KPI Library traditionally joins writing #radiodictation2020!
At 8:45 on this day we gather on the Zoom platform KPI community, friends and partners. We will tell the rules, support with a smile and TOGETHER write anniversary dictation!
Register via link and join us!
Бібліотека КПІ
09 листопада 2020 р., 08:45