/

/

XXI All-Ukrainian dictation of national unity
09/11
Home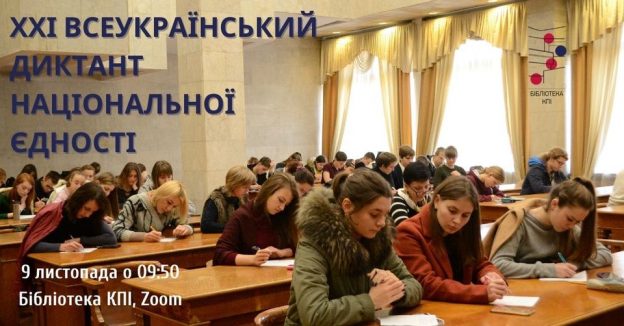 We invite students, teachers, employees of Igor Sikorsky KPI and all those who want to write the XXI All-Ukrainian dictation of national unity with the KPI Library.
As always, the event will take place on the Day of Ukrainian Literature and Language, 9th of November, from 10:00 to 11:00.
The author and reader of this year's radio dictation will be the writer Yuriy Andrukhovych. Larysa Masenko joined the methodical work.
The time to send the finished text is 24 hours. The text of the dictation will be published on the website of Ukrainian Radio on the 11th of November at 11:00.
You can send your works:
Offline to the address: Kyiv, Khreshchatyk street, 26, 01001. It is important that the postal seal was earlier than the 10th of November;
Online your work can be sent to the email rd@ukr.radio.
After the dictation text is published, the letters are not valid.
More details by the link.
At 9:50 follow the good tradition and join the KPI Library on the Zoom platform. And let's start our day with smiles and nice sweet words in our native language.
Please fill the form to register.
If you register, the link to the dictation in Zoom will be sent to your e-mail on the day of the event.
Бібліотека КПІ
09 листопада 2021., 09:50