/

/

And it's all about him: Igor Sikorsky
24/05
Home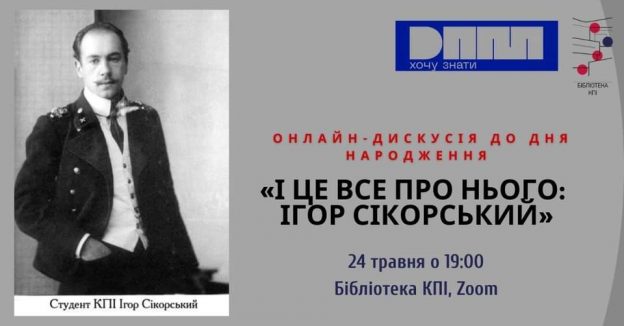 On 25th of May, the whole world celebrates Igor Sikorsky's birthday. 
The genius aircraft designer was a student of KPI, it was here that he got acquainted with airplanes, made the first project and built the first aircraft. 
We announce the theme of the next lecture in the series of historical studies «Think about it» – «And it's all about him: Igor Sikorsky». 
A glorious company gathers in the cozy Zoom-space of the KPI Library: local historian Larysa Stepashko, local historian and historian Mykhailo Kalnytsky, author of the children's book «Igor Sikorsky» Oleg Promakhov, scientists of the State Polytechnic Museum of KPI and specialists of the KPI Library. 
We invite everyone to join the conversation about Igor Ivanovych Sikorsky – his life and creative achievements. 
The meeting will be held on 24th of May, 2021, on conditions of prior registration.
Бібліотека КПІ
24 травня 2021 р., 19:00