/

/

Screening of the comedy «Fantozzi» by PostArt
03/12
Home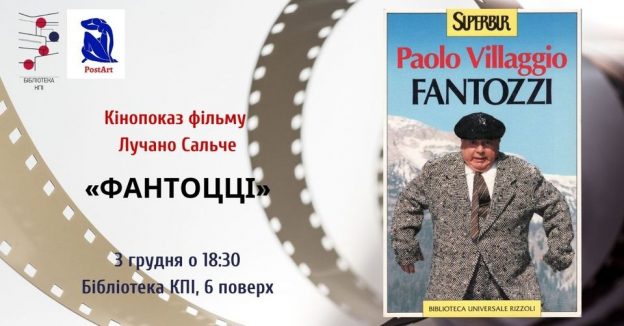 We invite you to the screening of the cult Italian comedy «Fantozzi» organized by PostArt
Year: 1975
Director: Luciano Salce
Genre: satirical tragicomedy
Starring: Paolo Villaggio
Lots of humor, gags in every frame, Paolo Villaggio's signature buffoonery – all this has become the hallmark of a series of films about the loser accountant.
In the movie, it is not clowning that makes you laugh, but a well-constructed satire, which is still relevant today. This raises the question of being a 'little man' who is trying hard to preserve their dignity.
Admission is free on the condition of prior registration.
The mob\vie is screened in Ukrainian.
To visit you need to have a COVID-certificate or PCR test, or a certificate of recovery.
Бібліотека КПІ
03 грудня 2021 р., 18:30