/

/

Screening of the movie «La Notte» from the PostArt project
29/10
Home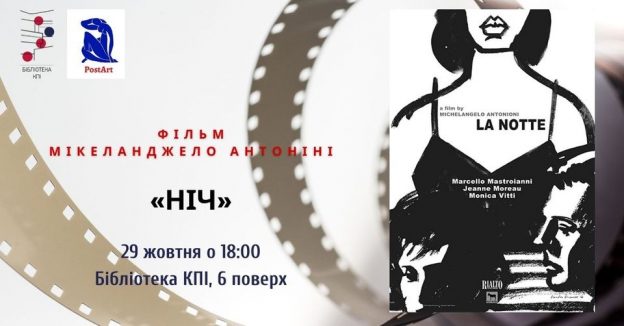 There will be a screening of the movie «La Notte» this Friday.
Year: 1961.
Genre: drama
Director: Michelangelo Antonioni
Starring: Marcello Mastroianni, Monica Vitti, Jeanne Moreau.
«La Notte» is a second movie from the 'alienation trilogy' of Antonioni.
The movie is focused on the complicated relationships between people.
Marcello Mastroianni and Jeanne Moreau play a couple of main characters, Giovanni and Lidia. Giovanni is successful writer, while Lidia is a rich heiress. Their marriage is falling apart due to Giovanni's self-proclaimed crisis.
While the simple plot unravels, Antonioni explores characters' emotions, shows the loss of love and respect.
Screening is free on condition of prior registration.
Attention! The movie is screened in the original language with English subtitles.
Do not forget about the masks and keep the distance.
Бібліотека КПІ
29 жовтня 2021 р., 18:00