/

/

Book Arsenal at the Library
23/06 - 27/06
Home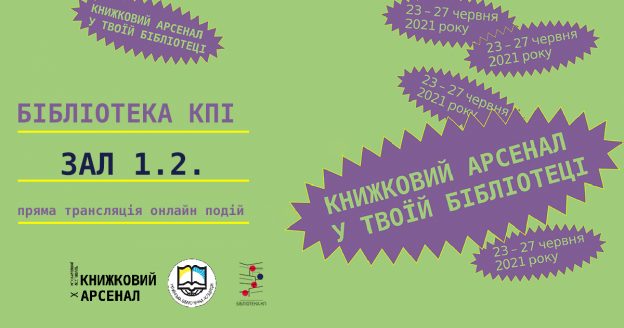 The jubilee X International «Book Arsenal Festival» will be partly held online and the Library will become its «embassy».
In reading room 1.2 you will be able to join the live broadcast of events that will take place online and live. 
Do you want to be filled with super-relevant and intellectual content of the best literary festival in the world? 
Get acquainted with the announcement, choose what you are interested in and come to us!
#bookarsenal_lib
23.06 (Wednesday) – 15:00 – 15:45
Webinar «We weren't given the instructions: Q&A about the teenagers' mental health»
24.06 (Thursday)  – 12:00 – 12:45
Canon of Ukrainian women writers: old and new names
24.06 (Thursday) – 13:30 – 14:15
Open dialogue «How to get to the library? Outspokenly about #reading»
24.06 (Thursday) – 15:00 – 15:45
«How to eat, drink and hear in Ukrainian?»
25.06 (Friday) – 13:30 – 14:15
Formats of reading classics: Lesia Ukrainka
26.06 (Saturday) – 13:30 – 14:15
To the 30th anniversary of Ukrainian Independence. Public talk «They fought for the Independence of Ukraine»
26.06 (Saturday) – 16:00 – 18:00
Event «Ukraine and Ireland: literature dimension»
KPI Library, room 1.2 (cultural and educational center)
Бібліотека КПІ
23 - 27 червня 2021