/

/

Lecture «How public activity influences your commercial price»
23/03
Home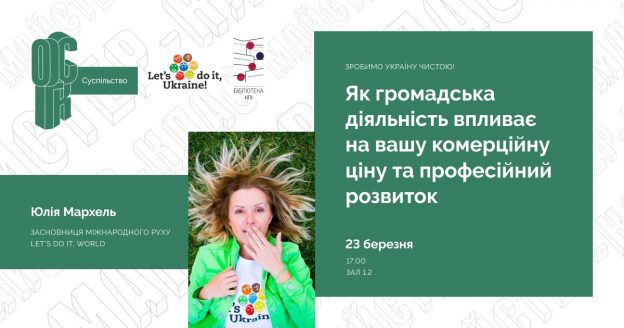 How public activity influences your commercial price and professional development?
That is what Iuliia Markhel, the founder of the international movement World Cleanup Day and Ukrainian youth movement Let's do it Ukraine, youth leader which unites people, person who
visited 48 countries, will talk about.
The speaker will tell why public activity is:
possibilities of development in professional sphere;
gaining real practice and receivingexperience;
activity that helps to fulfill your dreams.
Also you will hear how to join the Let's do it Ukraine team and participate the most global planet cleaning-up on the 19th of September, 2020.
Register by the link and join the event!
KPI Library, room 1.2
13 березня 2020 р., 17:00