/

/

Memes as embodiment of folk forms
19/02
Home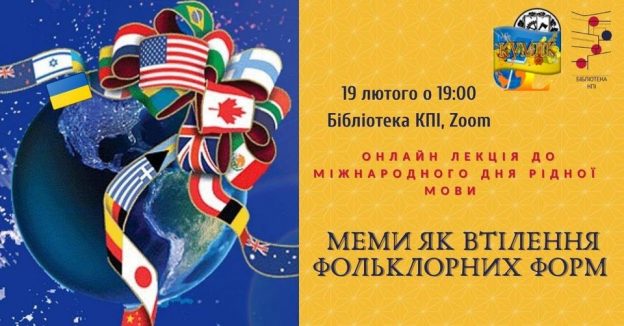 21 February is the International Mother Language Day.
International Mother Language Day was initiated and recognized by the United Nations General Assembly in 1999 to protect language and culture diversity. The annual celebration since 2000 has to promote linguistic and cultural diversity of the world.
Department of Ukrainian language, literature and culture invites everyone to talk about modern language issues on Friday 19.02.2021 at 19:00.
Ivannikova Liudmyla Volodymyrivna, folklore expert, Candidate of Philological Sciences, senior associate of the department of Ukrainian and foreign folklore studies of  The Rylsky Institute of Art Studies, Folklore and Ethnology of NAS Ukraine, will be the guest.
Meeting theme is «Memes as embodiment of folk forms».
On the meeting we will discuss the origin of modern memes, in particular, the language constructions, which we, often unconsciously, use nowadays, and which in reality are traditional and quite old folklore creations. On different examples the expert will show how the same language form, some expression can change and repeat for a long time, being anecdote, joke in the past, and a meme in present.
To participate please register in advance via the link.
Бібліотека КПІ
19 лютого 2021 р., 19:00