/

/

Scientific online seminar «Strategy development of academic publication»
19/10
Home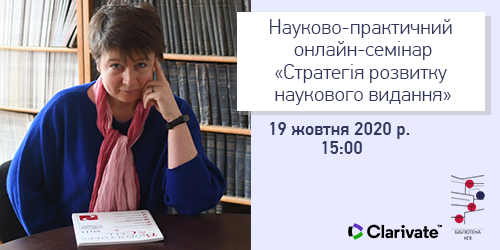 KPI Library invites the representatives of academic periodicals, representatives of scientific conferences organizational committees on 19 th of October 2020 at 15:00 to visit scientific online seminar «Strategy development of academic publication».
Key aspects:
signs and criteria of quality journals;
technical elements of scientific journal: website, ISSN, DOI;
part, rights and obligations of author, peer-reviewers, members of editorial board;
how to calculate citation number that has journal which is not indexed in Web of Science Core Collection;
what journals to look up to, what can you borrow for the development of own journal;
where and why journal has to be indexed, and what you should avoid;
criteria and procedure of journal selection to Web of Science Core Collection;
answers to the questions from the registration forms.
Presenter: Iryna Tykhonkova, PhD, Customer Education and Analytical Resources Specialist, Clarivate Analytics.
Participation is free. All the registered participants will receive on e-mail invitation with a link to the event.
Registration via link
Бібліотека КПІ
19 жовтня 2020 р., 15:00