/

/

Watching the movie «Adventure»
08/10
Home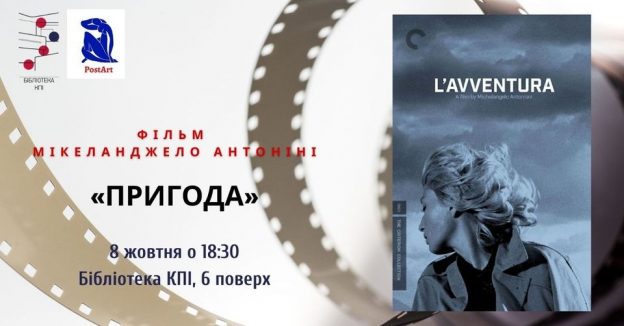 Another screening from PostArt 
We will watch the film «Adventure». 
Year: 1960 
Genre: drama 
Director: Michelangelo Antonioni 
Starring: Monica Witti, Lea Massari, Gabriele Ferzetti. 
«Adventure' is an 'open work» – a film in which the viewer is given the role of a free interpreter. This open structure is a feature of many of Antonioni's films. Like «Blowup», the film begins as a detective: a company of young bourgeois goes on a yacht in the Tyrrhenian Sea, makes a stop on a desert island and loses one of the girls there. 
Trailer. 
Admission is free by prior registration. 
Warning! The film will be shown in Italian with English subtitles. 
Бібліотека КПІ
08 жовтня 2021 р., 18:30