Everyone has a «shelf» with books that have inspired to new achievements, helped to become
better in our activities, the pages of which answered the questions that bothered us for so long.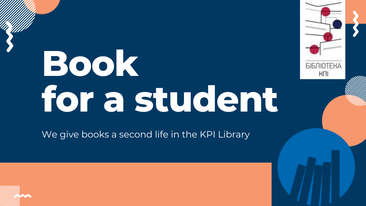 Who has turned over the last page of such book know that feeling: you want to share the book with friends, colleagues or family, even to tell the whole world about your discovery of something really important. However, you do not always have a person nearby who is ready to share your feelings after reading. Usually the books go to the home shelf where they are lost among the other backbones and dust.
The best option for the book that has changed your life for the better is to send it into a trip so the book could open a new world to another reader. How to do that? Donate the book to KPI Library! Here we will take care about it, among the millions of volumes it will not get lost and
forgotten, it will find the readers among the 20 000 of university students!
That is why we propose to you, experts in different fields, entrepreneurs, alumni, lecturers and everyone who cares, to participate raising the youth! If you have literature that inspired your professional and personal growth, and will be interesting to the students, you can donate it to our library.
Advantages of the project
Thanks to you we will fill the library book collections with up-to-date and useful texts. Maybe the book you present will help our users in studying or will become a small push to their big discoveries.
Together with you we will promote culture of reading. Books are not only about studying, research and science. Books are the opportunities to open different sides of the world, get to know something new with each new page.
Together we will renew traditions of philanthropy. Because your desire to follow the dynamics and rhythm of modern life should not make you forget loving people and friendly attitude to a human, about donating for the development of society.
Let's create modern Library together!
By the way, within the framework of «Give a book to a student» every year on the International book giving day (14 of February) KPI Library along with partners gives books to the most active users.
Also we develop BookCrossing, which is a good tradition for those who like to exchange books.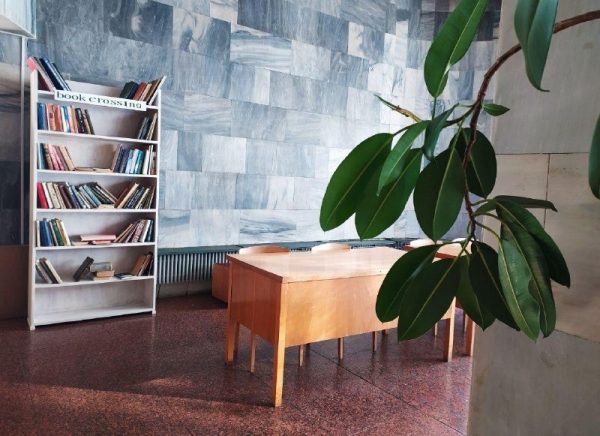 What to give
We appreciate the books that were useful for you, changed your mindset and became the small push for the big achievements.
So we will gladly accept:
books in good condition, with safe covers and pages, published during the last 5 years;
modern educational books in different fields;
motivational books for the self-education;
fiction or essays bestsellers;
new editions of classics in good condition;
business books, books on leadership, strategic management, creation and development of start-ups, project management, financial literacy, organizational and communicational skills and more.
We select out of all the books given. Books that do not fit because of subject or due to other reasons, if the donator wants it, might be moved to the Library book-crossing, which is in free access in the hall on the first floor.
How to give
organize personal meeting by the phone +38 (044) 204-97-53;
leave books at the Information Desk (Library 1st floor);
send books by mail to the Library address: Peremohy Avenue, 37 L, Kyiv, 03056, Ukraine;
if you are in Kyiv, we can take the books at your office.
Support the project
The Library gratefully accepts financial support that allows develop the project «Give a book to a student» and add modern books to our collection.
Bank account details for charitable contributions:
Receiving Organization: Благодійна організація «Благодійний фонд "Асоціація випускників Київського політехнічного інституту імені Ігоря Сікорського"»
Address: 03056 м. Київ, проспект Перемоги, будинок 37, корпус 1, оф. 264
EDRPOU: 35757032
Score: UA853052990000026000016209702
Bank name: АТ КБ «ПРИВАТБАНК»
Purpose of payment: KPI Library project «Give a book to a student»
For more information about the project «Give a book to a student» and possible cooperation, please, contact the manager of the project.