/

/

Film screening «Sunset Boulevard»
22/09
Home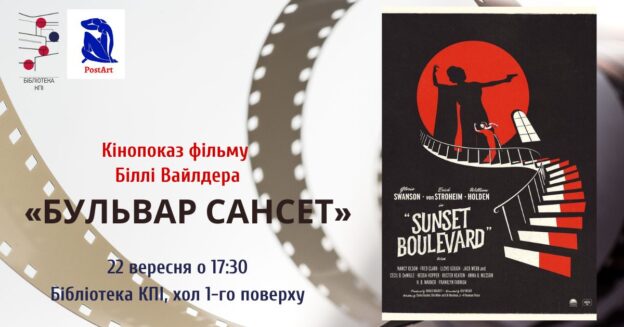 We invite you to the screening of Billy Wilder's film «Sunset Boulevard» as part of the PostArt project.
Year: 1950
Genre: Drama
Starring: William Golden and Gloria Swenson
What about? Young Hollywood screenwriter falls into the trap of a fading Hollywood star in this noir drama. As the main character struggles to find his place in Hollywood, his work remains undemanding. One day he accidentally enters a mansion on Sunset Boulevard. It turns out that the mistress of the estate is a once famous movie star.
There will be a mini-lecture prior to the film screening about this film. Film is showing in English accompanied by subtitles.
To visit the Library, you need to have a student card, pass or passport with you.
Бібліотека КПІ, хол 1-го поверху
22 вересня, 17:30