15/09
Home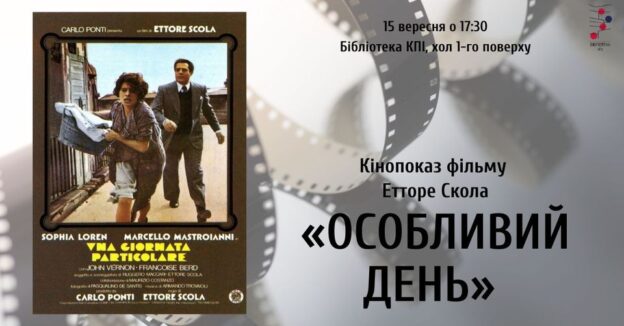 Friday = movie! Together, let's watch the movie «Special Day» featuring Sophia Loren.
Year: 1977
Genre: drama, tragedy
Director: Ettore Scola
Rome 1938. Adolf Hitler arrives to the Italy to meet with Benito Mussolini. This event is attended by the entire town. Only the main character has to stay home. Let's find out how this special day will end for her. When: September 15 at 5:30 p.m Where: hall of the 1st floor of the KPI Library.
Film is showing in English accompanied by subtitles. To visit the Library, you need to have a student card, pass or passport with you.
Бібліотека КПІ, хол 1-го поверху
15 вересня 2023 р., 17:30