/

/

PostArt: Ukrainian Cinema (part one)
18/12
Home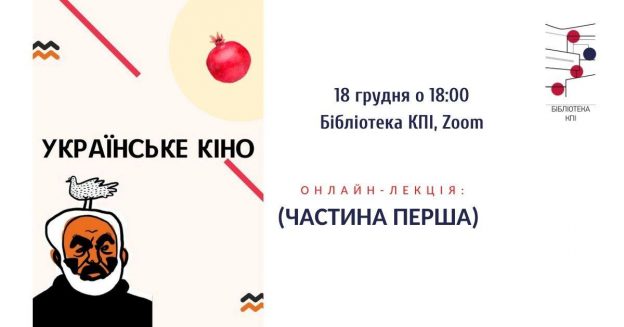 Hello, friends! Finally we again organize events in cooperation with PostArt. Since 18th December we organize lectures.
On the first meeting Olha Maksymiv will tell us about Ukrainian cinematography. The general overview will take 2 lectures. First – from the birth till 'Khrushchev Thaw', second – from «Era of Stagnation» till nowadays.
On Friday we will speak about Ukrainian movies poster, creativity of Dovzhenko, Illienko, Mykolaychuk, Kavaleridze, Vertov.
Why Paradzhanov can be called Ukrainian director and how pomegranate is related to it?
Lectures will be held in Zoom, please join: it will be very interesting.
The link will be sent on 18.12 at 16:00 to your email after you fill the form.
Attention!
The time can be changed, you will be informed beforehand.
Бібліотека КПІ
18 грудня 2020 р., 18:00