31/08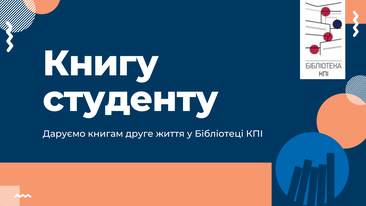 Our campaign #КнигуСтуденту (a book to the student) continues – and over time it becomes more and more important and relevant.
On the eve of the Day of Knowledge and the beginning of the new school year, we invite our best KPI community to join and donate books that will be interesting and useful for our students! This is artistic, educational, scientific, and popular science literature in Ukrainian or the languages of the European Union, which is in good condition and was published within the last 5 years.
Learn more about #КнигуСтуденту via the link.
And we have an important update: if you are in Kyiv, but cannot visit the Library, fill out the online form and we will pick up the books in a convenient way for you.