/

/

Viruses. Life. Cosmos.: lecture by Andriy Potrokhov
15/09
Home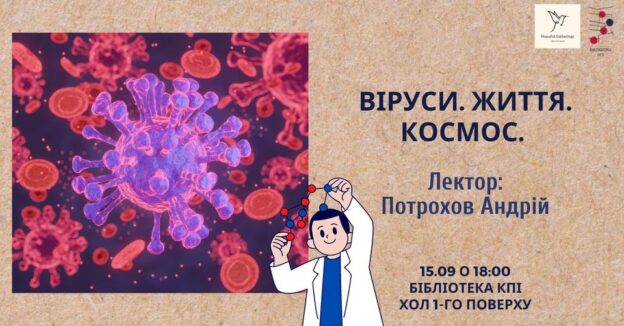 We invite you to a popular science lecture within the framework of the «Peaceful Gatherings» project. We will learn:
how viruses were discovered and what kind of biological objects they are;

about the hypotheses of their origin and influence on evolution on the planet;

is it possible for viruses to exist in space?
And at the end, we will discuss whether viruses are alive in the context of our understanding of life.
The event is open. We invite everyone.
It will be scientific!
Our lecturer is Andrii Potrokhov, a leading engineer of the genetic engineering department of the Institute of Cell Biology and Genetic Engineering of the National Academy of Sciences of Ukraine.
Бібліотека КПІ
15 вересня 2022 р., 18:00