/

/

Famous Poles – students of the Kyiv educational institutions
11/11
Home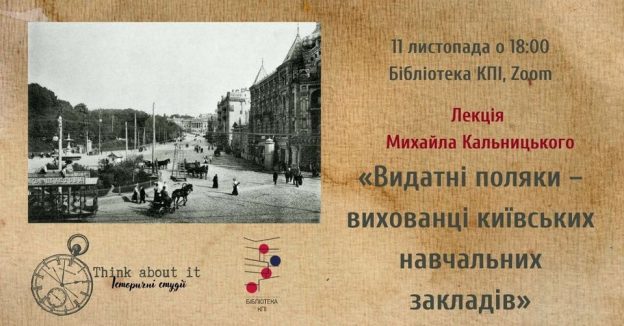 On the 11th of November 11 Poland celebrates its national holiday – Independence Day. On this day a lecture on the topic «Famous Poles – students of Kyiv educational institutions» will be held as a part of the series of historical studies «Think about it».
In the late XIX – early XX century a significant part of the population of Kyiv and Kyiv region were ethnic Poles. Many of them studied in Kyiv – at the University of St. Volodymyr, Polytechnic and Commercial Institutes, local gymnasiums and other educational institutions. Among them were well-known Polish public figures, scientists, writers, artists.
Several of the most famous names , such as Vyacheslav Lypynsky, Tadeusz Dołęga-Mostowicz, Bolesław Leśmian, Jarosław Iwaszkiewicz and others, will be mentioned during a lecture given by a well-known Kyiv historian, a graduate of Kyiv Polytechnic Institute, a longtime friend of our library – Mykhailo Kalnytskyi.
The lecture will be the first dedicated to the 100th anniversary of the Kyiv Polytechnic Students Section in Poland.
So, the meeting in Zoom will take place on the 11th of November, starting at 18:00.
Link to the Zoom conference will be sent to your e-mail on the day of event!
Бібліотека КПІ
11 листопада 2021 р., 18:00