/

/

Outstanding scientist, chemist Wojciech Alojzy Świętosławski
09/12
Home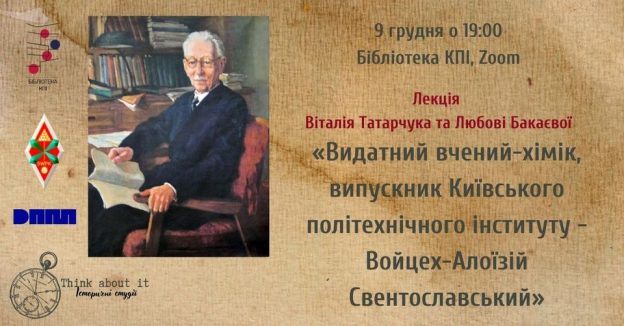 We invite you to the next lecture of historical studies Think about it.
We remind you that the series of lectures 2021-2022 is dedicated to the 100th anniversary of the Section of KPI Students in Poland (1922-2022). The topic of the December meeting is 'Outstanding scientist-chemist, graduate of Kyiv Polytechnic Institute (1906) Wojciech Alojzy Świętosławski'.
Świętosławski became one of the founders of the KPI Students' Section at the Main Technical Society in Poland, an organization that brought together many former students of Kyiv Polytechnic. He also played a significant role in the scientific and social life of the Republic of Poland. We will learn about the events of his life and scientific activity during the lecture.
The invited speaker is the head of the department of history of Ihor Sikorsky KPI V. Tatarchuk State Polytechnic Museum and researcher of the Department of History L. Bakaeva.
Lecture will be held on the 9th of December 2021 on the Zoom platform. Start at 19:00.
Бібліотека КПІ
09 грудня 2021 р., 19:00