/

/

XR-exhibition "The Real Reasons for the War, or How Russian...
23/10
Home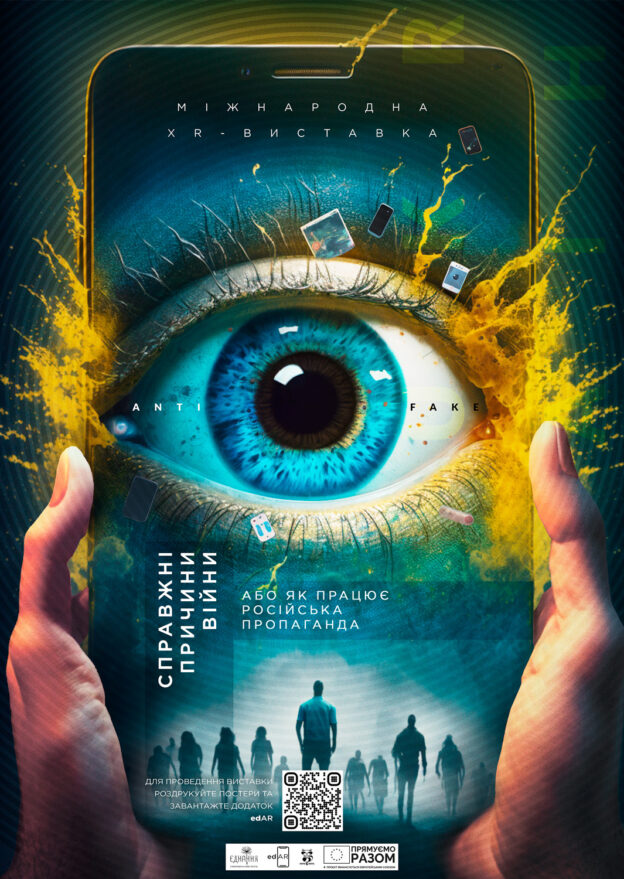 XR-exhibition "The Real Reasons for the War, or How Russian Propaganda Works" will be held at the KPI Library on November 2
This unique and innovative exhibition is designed specifically to counter Russian propaganda, to raise awareness and media literacy in society.
The exhibition combines the familiar poster format with the latest technologies. Thanks to the edAR app, all the benefits of 3D, AR, and VR experiences can be accessed without special equipment.
When a smartphone is pointed at a poster, the edAR mobile app activates and brings the posters to life. The viewer will see 3D models, audio, video, and VR portals that encourage in-depth research, immersion in the topic, and better memorization of data and facts.
Unique posters of the exhibition were created using artificial intelligence by analyzing a large amount of data on a given topic.
XR-exhibition explains in detail how the Russian propaganda system is structured, debunks well-known fakes and manipulations that have been working against Ukraine for years, and most importantly, shows where it can lead to on the examples of war.
This new tool for countering propaganda with XR technology will be presented to 5000 schools and public institutions in Ukraine and 20 other countries.
The KPI Library has joined the national marathon of countering propaganda and invites you to visit the exhibition on November 2.
The edAR app, which makes AR technologies accessible to educators and civil society activists, was developed by the European Chornobyl Institute in partnership with the NotaEnota initiative as part of the EU Urgent Support for Civil Society project implemented by ISAR Ednannia with the financial support of the European Union.
#XRвиставка #edAR #якпрацюєпропаганда #справжніпричинивійни #нотаЄнота
Бібліотека КПІ, хол 1-го поверху
23 жовтня - 3 листопада 2023 р.