/

/

How to read the news during the war. Practical advice
27/10
Home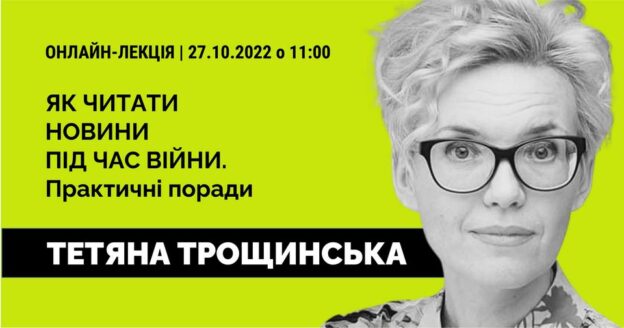 The Ukrainian Library Association and the information hygiene initiative «Як не стати овочем» launched a series of lectures on information hygiene, where the lecturer will tell how to filter information during war and how to form information hygiene.
The lecture will consider:
Benefit, knowledge, emotions: how do we perceive information in the media?

Communicative overload and communicative chaos. Why do people watch scary news?

The structure of the media field (professional media,

scavengers,

bloggers).

How does a journalist differ from a blogger?

Index of media literacy. 5 principles of understanding mass media and fact-checking.

How to understand how the media affects me personally and overcome information overload?
Lecturer: Tetyana Troshchynska, editor-in-chief and deputy head of the Board of Public Radio, presenter. Finalist of the Georgy Gongadze Award for 2022. Doctor of Science in Public Administration invited lecturer at the  A. Melashevich Kyiv-Mohyla School of Government a specialist in negotiation skills according to the Harvard methodology.
Watch the previous lecture «Overwintering. How to prepare for winter and not become a victim of propaganda, panic, hysteria, and marketing»
Бібліотека КПІ
27 жовтня 2022 р., 11:00