/

/

How to consume information during the war
20/06
Home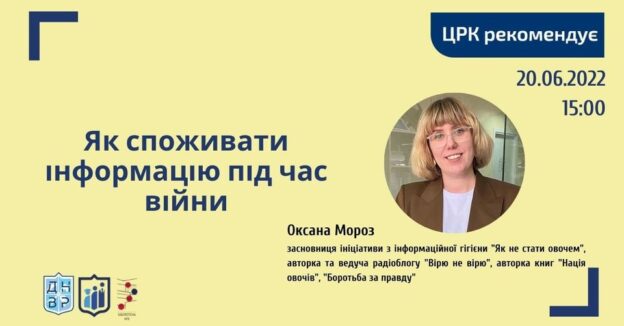 Webinar «How to consume information during the war» from KPI Library and the Career Development Center of Igor Sikorsky Kyiv Polytechnic Institute.
Issues of information hygiene during the war are becoming increasingly important, because the information consumed depends on our lives and our loved ones.
We invite you to understand this complex topic by joining the webinar «How to consume information during the war».
At the meeting we will learn:
Is it true during the war?
How to distinguish objective media from garbage?
How the enemy works in the infospace: the 7 rules of Russian propaganda?
What is an information pyramid and «temniks»? How not to help the enemy?
Speaker: Oksana Moroz is the founder of the initiative on information hygiene «How not to become a vegetable», author and host of the radio blog «I do not believe», author of the books «Nation of Vegetables», «Fight for Truth». At the end of the event you will have a Q&A session with an expert, so we advise you to prepare your questions on the topic of the event!
Link to Zoom Identifier: 819 0260 9146 Password: 323190
Language of the event is Ukrainian.
Бібліотека КПІ
20 червня 2022 р., 15:00