We want to create the collection of valuable materials on the history of Kyiv Polytechnic to
save for future generations the unique witnesses of the diverse university life.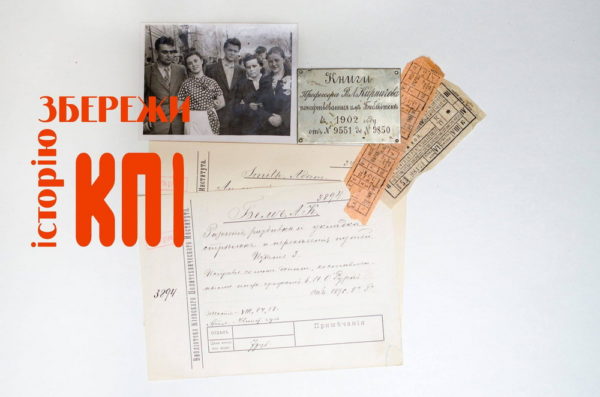 So we propose all the members of KPI society, students, teachers, staff, and members of their
families, to join us in developing the collection. Revise your archives, home, and department
libraries, and maybe you will find the long-forgotten materials which relate to your dear
alma mater. We will be glad to receive printed and non-printed presents that will help us to
recreate the peculiarities of Kyiv Polytechnic life in different years.
All the presented materials we will digitize and download to the portal of the Kyiv Polytechnic
Digital Library to the collection «Documents of social life. Printed originals will be kept at the
library. Let's save the KPI history together!
What to present
We collect different materials, among them,
there could be:
leaflets, pamphlets, booklets, programs;
invitations, tickets, posters;
diplomas, medals, certificates;
calendars, postal cards, letters;
printed announcements, photos, audio, and video.
How to convey
That is how you could give the materials to the KPI Library:
to bring them personally to the Rare and valuable books department (reading hall
3.5, 3rd floor);
leave them at the Information desk (1st floor of the Library);
send them by mail to the address: 37L Peremohy Avenue, Kyiv, 03056, Ukraine;
if you work or study at KPI, we might take the materials from faculty, department, or any other subdivision of the University.
We promise to inform the givers about the exhibitions and publications if the materials they
presented are used.