/

/

We remember the together: «Залізна евакуація» by Andriy Permyakov
02/03
Home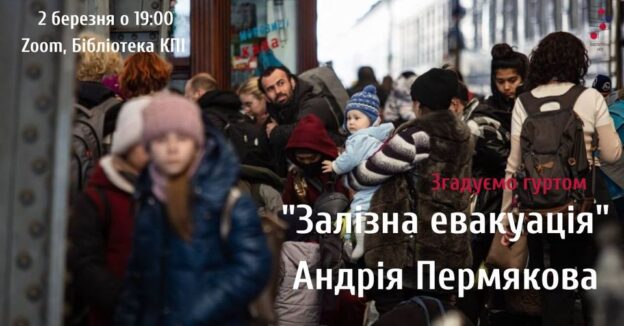 A year has passed since the war started
A year ago, many of us left our native homes at this time on Ukrainian trains, saving our lives.
Crowds. Bombing. Screams of women. Children's tears. Abandoned strollers and pet carriers… and men on the platforms. They stay.
And the railway and railway workers, and volunteers save millions of people despite everything.
On March 2 at 19:00 on the Zoom platform, we will read together the book «Залізна евакуація» by Andriy Permyakov and share our stories and memories of those days.
Join us!
Everything will be Ukraine!
Registration.
The link to the Zoom conference will be sent to your email on the day of the event!
Бібліотека КПІ
02 березня 2023 р., 19:00