21/12
Hey friends!
Let's create New Year's beauty together. On December 21 (Wednesday) at 4:00 p.m., under any circumstances, we will meet in the KPI Library's first floor hall and we will create:
New Year's toys made of cotton wool;

paper collages.
We will work with our hands, listen to music, turn ordinary
materials into something new and will have fun.
Our guests, ceramic artist Ulyana and collage artist Nastya will help us with.
Please bring all the creative things you have: glitter, paper, magazines, beads, etc.
The number of places is limited! Hurry up to register.
Бібліотека КПІ
21 грудня 2022 р., 16:00
читати далі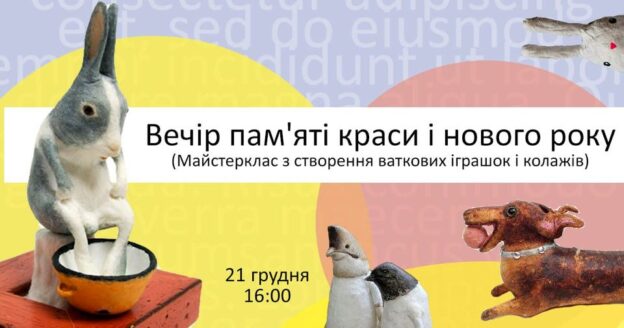 15/12
It is already a good tradition to invite friends and decorate the library Christmas tree together. And this year, despite everything, is no exception.
Therefore, we invite KPIshniks to the Library – to chat, decorate our Christmas tree and create your own festive mood!
Before meeting!
Бібліотека КПІ
15 грудня 2022 р., 14:00
читати далі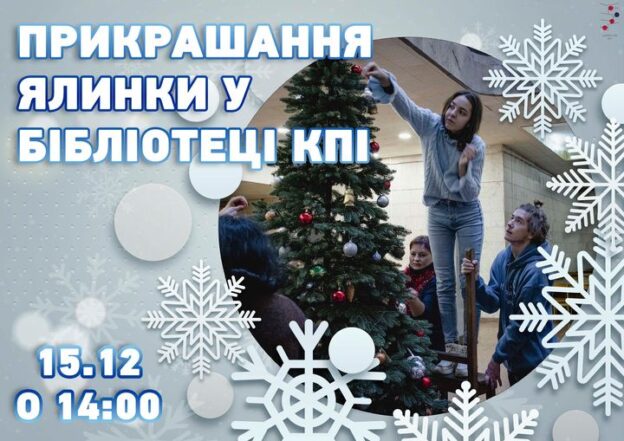 12/12
From December 12 to 19, the second National Reading Week will be held in Ukraine. So we decided to join this event by prolonging the reading and discussion of the book «Ukrainian Basics».
This collection of essays by famous Ukrainians is intended for a wide range of readers.
This time we are discussing the chapter «Order and the social contract». We invite everyone to join!
Registration.
To visit the library, you must have a student card, pass or passport with you.
Бібліотека КПІ
14 грудня 2022 р., 16:00
читати далі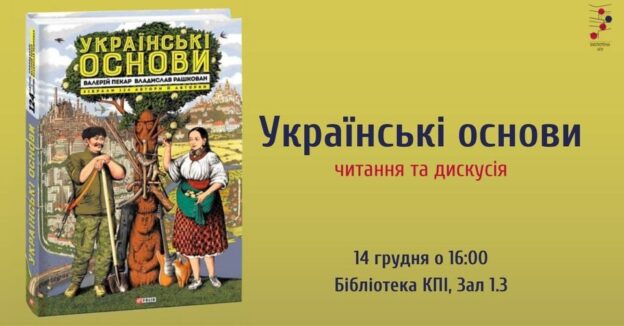 05/12
On December 5, we will celebrate International Volunteer Day.
And we will do it as a group, with benefit and a bit of excitement!
For several months, the librarians of the KPI Library have been weaving camouflage nets for our defenders. So we decided to celebrate the Volunteer Day in this way – and weave one net for December 5.
We invite all willing KPIshniks to join us. If you have never woven camouflage nets, don't worry, we'll teach you! If you can and know how, it's great (and we can't do it without you).
Бібліотека КПІ
05 грудня 2022 р., 10:00
читати далі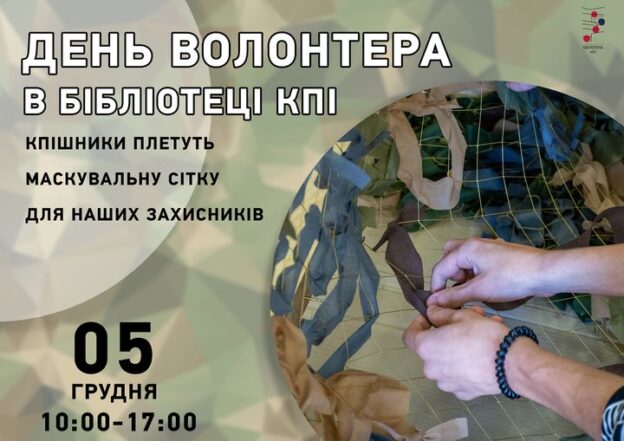 01/12
December 3 marks the 300th anniversary of the birth of the outstanding Ukrainian philosopher, poet, teacher and very unique personality – Hryhoriy Savich Skovoroda.
The best greeting for a writer is reading his works. So we invite you to read Skovoroda's «Kharkiv Fables» together.
Registration.
To visit the Library, you must have a student card, pass or passport with you.
Бібліотека КПІ
01 грудня 2022 р., 16:00
читати далі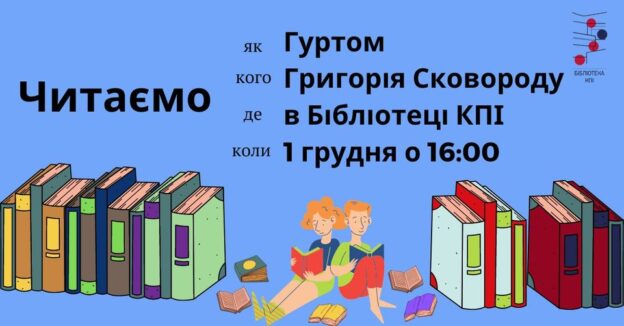 16/11
We continue to read and discuss the book «Ukrainian basics» («Українські основи»).
This is a collection of essays by famous Ukrainians, written for a wide range of readers.
The topic of this meeting will be «Values». We invite everyone to join!
The recording of the previous meeting via the link.
A link to the Zoom meeting will be sent to your email on the day of the event.
Бібліотека КПІ
16 листопада 2022 р., 18:00
читати далі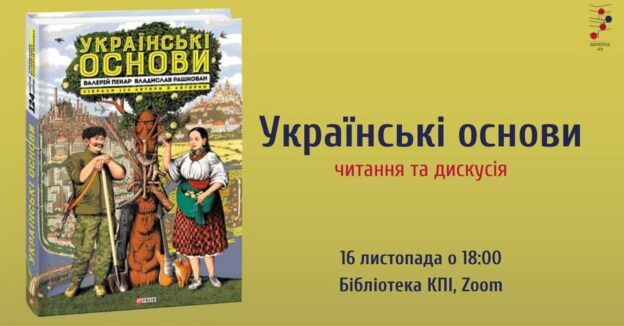 09/11
On November 9, at 11:00 Kyiv time, we write the XXII All-Ukrainian dictation of national unity.
This year, on the Day of Ukrainian writing and language, dictation will be a meeting place for Ukrainians scattered all over the world.
We invite students, teachers, employees of KPI named after Igor Sikorskyi and all those willing to traditionally write a dictation with the KPI Library.
The author of the text is the Ukrainian writer and director, member of the Ukrainian PEN Iryna Tsylyk, and it will be read by the People's Artist, Hero of Ukraine Ada Rogovtseva.
More details about dictation can be found at the link.
Бібліотека КПІ
09 листопада 2022 р., 11:00
читати далі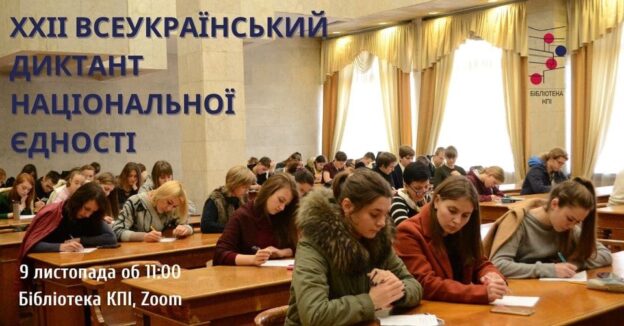 27/10
The KPI Library invites scientists, teachers, graduate students, students, librarians and everyone else to participate in events within the framework of the International Open Access Week and the World Media and Information Literacy Week (October 24-30).
At the scientific and practical seminar «AIP style (style of the American Institute of Physics) – international style of citation and reference in the field of physics» we will consider:
AIP Style as the most widespread international style in the field of physics;

peculiarities of design of references in the text of the work;

arrangement of the list of used sources.
Бібліотека КПІ
27 жовтня 2022 р., 15:00
читати далі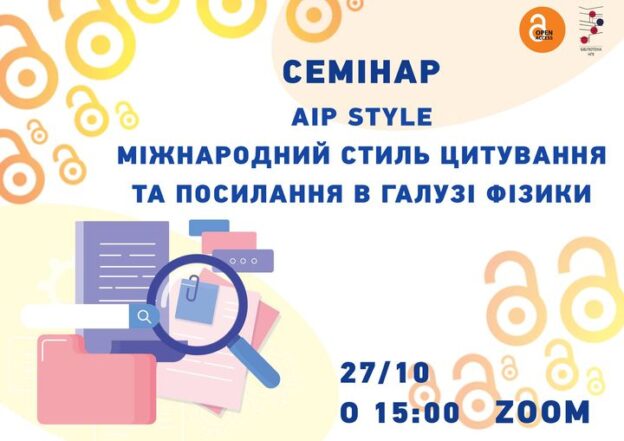 25/10
Webinar «SciVal Without Secrets – Analyzing Researcher and Institutional Development» by Elsevier.
The webinar will consider:
What is the SciVal tool;

Functionality and capabilities;

How SciVal can help in the analysis of scientific work (institution/researcher/country).
Lecturer: Lyudmila Trotsenko, ambassador of Research Intelligence Elsevier, leading editor, head of the Scientific Publications Support Sector of Igor Sikorsky KPI Department of Information Support for Education and Research of the KPI Library
Бібліотека КПІ
25 жовтня 2022 р., 11:00
читати далі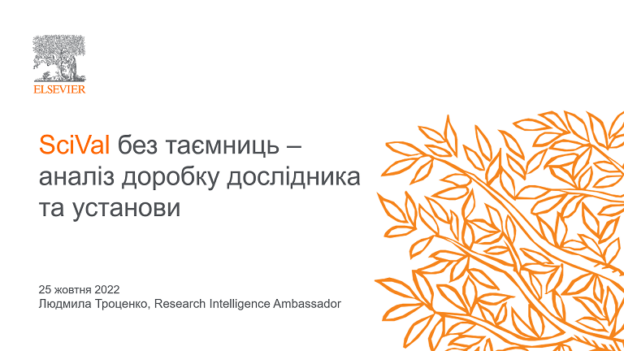 27/10
The Ukrainian Library Association and the information hygiene initiative «Як не стати овочем» launched a series of lectures on information hygiene, where the lecturer will tell how to filter information during war and how to form information hygiene.
The lecture will consider:
Benefit, knowledge, emotions: how do we perceive information in the media?

Communicative overload and communicative chaos. Why do people watch scary news?

The structure of the media field (professional media,

scavengers,

bloggers).

How does a journalist differ from a blogger?

Index of media literacy. 5 principles of understanding mass media and fact-checking.

How to understand how the media affects me personally and overcome information overload?
Lecturer: Tetyana Troshchynska, editor-in-chief and deputy head of the Board of Public Radio, presenter. Finalist of the Georgy Gongadze Award for 2022. Doctor of Science in Public Administration invited lecturer at the  A. Melashevich Kyiv-Mohyla School of Government a specialist in negotiation skills according to the Harvard methodology.
Watch the previous lecture «Overwintering. How to prepare for winter and not become a victim of propaganda, panic, hysteria, and marketing»
Бібліотека КПІ
27 жовтня 2022 р., 11:00
читати далі