News
23/02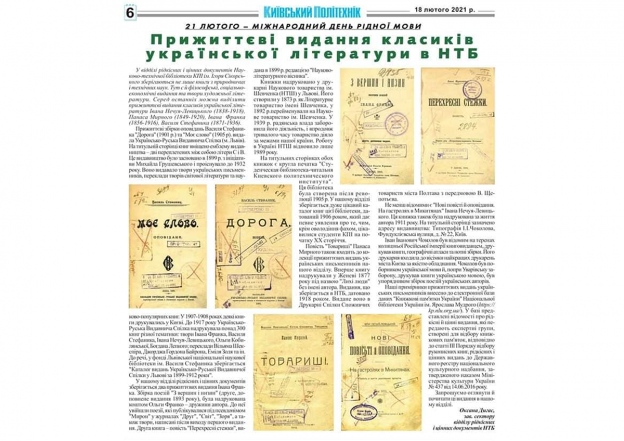 In the latest issue of «Kyiv Polytechnic» newspaper an article by Library expert Oksana Dygas about lifetime editions of Ukrainian literature classics – Ivan Neshui-Levytskyi, Panas Myrnyi, Ivan Franko, and Vasyl Stefanyk, was published. Books are kept in the rare and valuable documents department. Read more via the link.
читати далі
18/02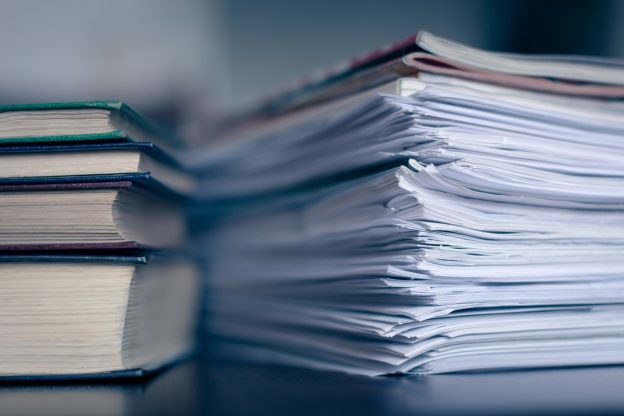 Clarivate Analytics in their report and relevant press-release has informed that the formula for impact-factor calculation for journals that are included into databases of Science Citation Index Expanded and WoS Social Science Citation Index on Web of Science platform has been renewed.
New method is driven by the need to count academic influence of journals that function by the model of Early Access to the articles more correctly.
Due to Seven Hubbard, director of the Journal Citation Reports (JCR) content group, usage of the date of online publication to count impact factor of the journal will start in 2022 also using the data of 2021 publications.
We remind you that on Library website in chapter «Research» you can always:
find information on different indexes of academic journals impact;

overview the lists of new publications of Igor Sikorsky KPI authors on Scopus and Web of Science with impact indexes that is calculated by these international databases of scientific citation.
читати далі
10/02

In February there will be held free webinars in English organized by Elsevier company on the platform BrightTalk.
Journals publications, open access management, saving research data in cloud service Digital Commons, professional platform for journal publications, conference materials, open studying resources, books.
11/02/21 о 12.00 Modern repository: journal publishing, OA management, research data. 
SciVal as a digital instrument for analysis of data that is in Scopus – what is this, how to receive access to it, and how the navigation works?
18/02/21 о 12.00 How to start your adventure with SciVal? 
United Nations Sustainable Development Goals: how to analyze bibliometric indexes? Where to find information on SDG? Publications, citations, and indexes on SDG.
25/02/21 о 12.00 UN Sustainable Development Goals – how to analyze bibliometric indicators? 
Register and join the webinars.
читати далі
08/02
All the students of the 1 st course are automatically registered in KPI Library!
Now all freshmen can use all resources and services of the library for free.
How to take book home:
enter your MyAccount in electronic catalogue:
– your login – number of your student ID card (without letters);
– your password – date of your birthday in the format ddmmyyyy (we advise you to
change the password to the safe one in your settings);
find the publications you need and make order;
check out your order from the library. Or use our service «Books by post» and receive
the publications in the nearest post office.
In your MyAccount you can also see checked-out books and renew period of use (for example, from 2 month to 4 month, and do it twice), search the necessary books and overview the new books.
If you have questions, please contact us in the way that is convenient for you:
y phone: +38 (044) 204-82-75;
by email: library@library.kpi.ua ;
in chat with librarian online;
читати далі
03/02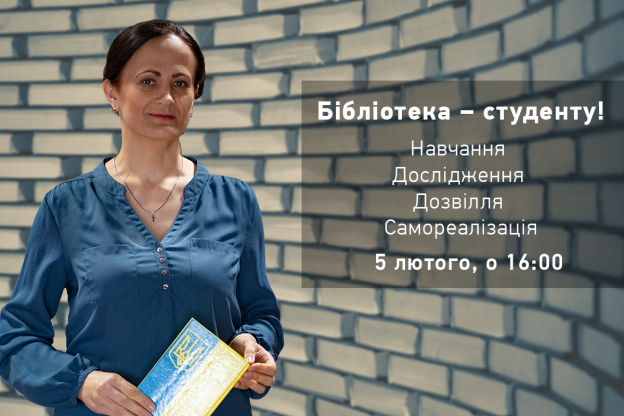 Live stream about the possibilities for studying, research, leisure, and self-realization in KPI Library.
On Friday on the 5 th of February at 16:00 KPI Library Director Oksana Brui will tell:
why do we need library if «everything is on the net»;
what library proposes remotely;
what could be the leisure with the library if the whole life is online;
how to realize your ideas together with the library.
Join us via the link, and ask the speaker about everything that you are interested in during the live stream.
читати далі