/

/

Watching the movie «Le Magnifique»
17/09
Home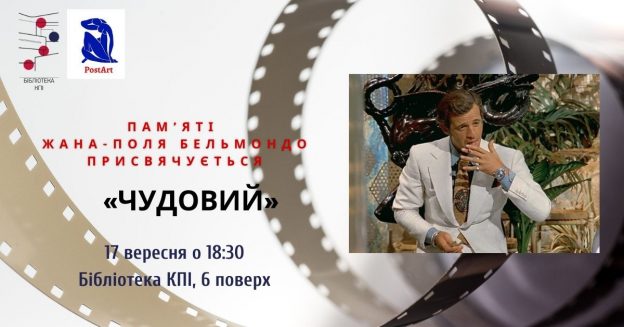 Another screening from PostArt!
This time it is dedicated to the memory of Jean-Paul Belmondo! We will watch the movie «Le Magnifique».
 Year: 1973 
Genre: comedy
 Director: Philippe de Brock 
Starring: Jean-Paul Belmondo and Jacqueline Bisset. Belmondo and director Philippe de Brock decided to make fun of «Bondian», and at the same time the usual roles of the actor. 
Despite some absurdity and heightened parody, there are many memorable scenes in the movie, and Belmondo himself literally revels in self-irony.
The character of Belmondo in the film is witty and sensitive, and we want to remember him that way. Join us! 
When? 17th of September 17 at 18:3
 Where? 6th floor of the KPI library 
Admission is free by prior registration. 
Warning! The film will be shown in the original language (French) with English subtitles. 
Do not forget to follow all quarantine sanitary requirements.
Бібліотека КПІ
17 вересня 2021., 18:30