Announcements
21/04
We invite you on the 21 and 22 April at 16:00 to the seminar «IEEE Authorship and Open Access Symposium: Best Practices to Get Published to Increase the Exposure and Impact of Your Research» by the international organization of engineers  in the field of electrical engineering, radio electronics and radio electronics industry  IEEE (Institute of Electrical and Electronics Engineers).
Seminar language: English.
Speakers: leading experts of IEEE.
Key aspects of the webinar:
How to increase the visibility and influence of your research;

Advices and best practices for the author to raise chances for publication;

Accents that editors and reviewers pay attention to in the submitted materials;

Popular reasons of article publication rejections;

Choosing the right edition for your research;

Reasons to apply with your article to the open access journal;

Variants of open access, available in IEEE for the authors and institutions;

Research strategies using digital library IEEE Xplore;

Instruments for authors, available in IEEE, for promotion of open science.
In the end of event there will be Questions & Answers session.
Please read detailed information and register via the link.
Бібліотека КПІ
21 - 22 квітня 2021 р., 16:00
читати далі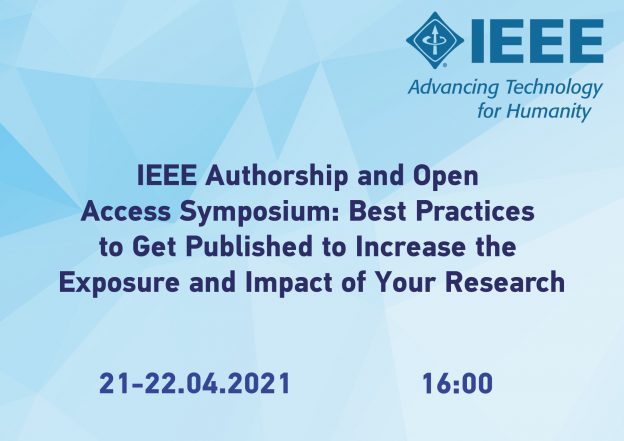 20/04
On the 20th of April at 19:00 there will be thenext meeting of Fantastic course! Moderators Ievgeniia Breznytska and Irina Filonenko will tell about the dissimilar Oleksa Berdnyk and Kurt Vonnegut.
Master of extravaganza Oleksa Berdnyk
Cult Ukrainian sci-fi writer, futurist and globalist, philosopher and theologian, public activist and political prisoner. 
In his books the past is intertwined with the future, concentrating on Ukraineintersects with the cosmic purpose of man existence. «Way of Titans», «Arrow of Time» are the classics of Ukrainian science fiction, and «Star Corsair» became author's second name.
Sci-fi writer and satirist Kurt Vonnegut
Cult figure of the twentieth century literature. American writer who united in his books satire and black humor, science fiction and realism, the purest truth and graphics. Kurt Vonnegut raised serious topics, but wrote in such a way that they were perceived easily and with laughter. His books «Slaughterhouse №5», ' Cat's Cradle'is  impossible to forget,  although the author himself is hardly remembered.
Lecture will be held in zoom, registration is needed.
Link on the conference will be sent to your email in the day of lecture.
Бібліотека КПІ
20 квітня 2021 р., 19:00
читати далі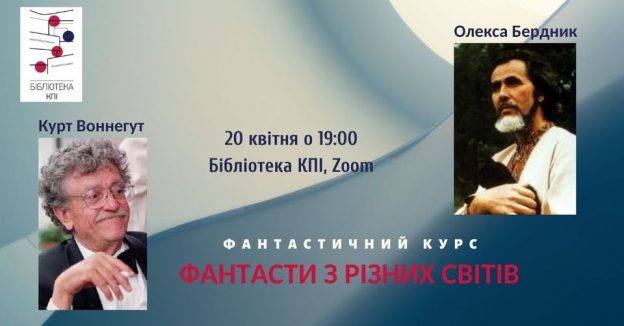 15/04
Educational event for researchers «Clean' Thursday: let's update authors' profiles» continues!
This time there will be important and useful webinar «ORCHID: researcher's identifier in digital environment».
You will learn:
hto use ORCHID?

what data is important to specify when creating an identifier?
how to quickly add your research?
and the answers to questions you can ask the speaker about ORCHID.
Register and join the event!
Бібліотека КПІ
15 квітня 2021 р., 16:00
читати далі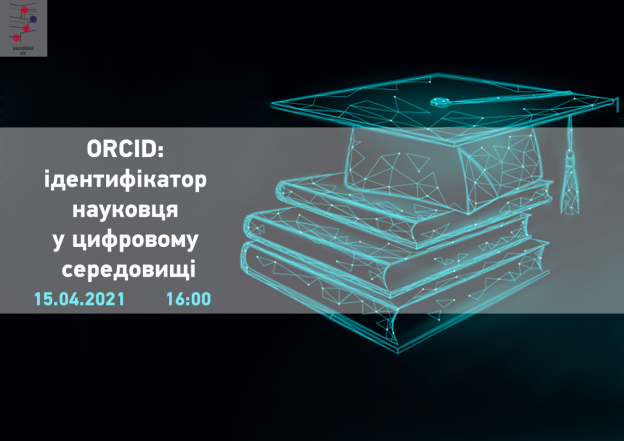 14/04
On the 12th of April we celebrate Day of rocket and space industry workers of Ukraine. Kyiv Polytechnic has something to be proud of in the development of this field.
In addition, on the 12th of April 12 World Aviation and Astronautics Day is celebrated. An extremely interesting lecture is dedicated to these holidays – «Aerospace» KPI.
Our lecturer is the head of KPI history department of State polytechnic museum Vitaliy Tatarchuk.
On the 14th of April at 17:00 he will tell about the people who created the great aerospace history of KPI. Moreover, we will learn about nowadays Institute of aerospace technology.
To participate please register.
Link to the Zoom conference will come to your email in two hours before the start of lecture.
Бібліотека КПІ
14 квітня 2021 р., 17:00
читати далі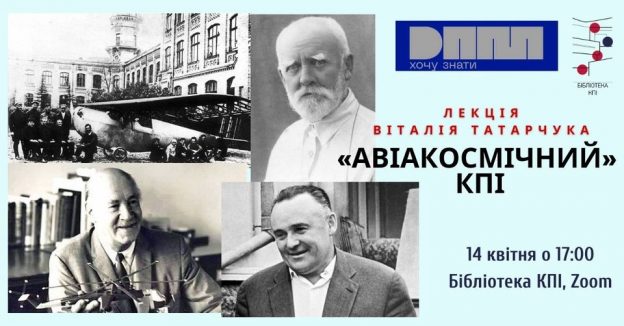 14/04
KPI Library invites science and education managers,  deputy deans for scientific work, heads of departments, as well as all interested researchers of Igor Sikorsky KPI on the 14th of April at 12:00 to join the scientific and practical seminar «Features in SciVal from different perspectives. How to use it in the best way».
SciVal is an instrument for analyzing the data contained in the Scopus database, which allows you to visualize the achievements of research institutions, compare them with other institutions, evaluate potential colleagues and partners, as well as analyze trends in world science.
During the training you will see what you can use the available indexes for and that anyone can complete even complicated analysis in a few minutes.
Key aspects:
how to increase your opportunities from the perspective of researcher and from the perspective of institution;

Scopus and Sci-Val: the synergy of opportunities;
classification, research directions and trends.
Speakers: Bartłomiej Więckowski , Krzysztof Szymanski, Elsevier information resource consultants.
Participation is free of charge.
Pre-registration is via the link.
Бібліотека КПІ
14 квітня 2021 р., 12:00
читати далі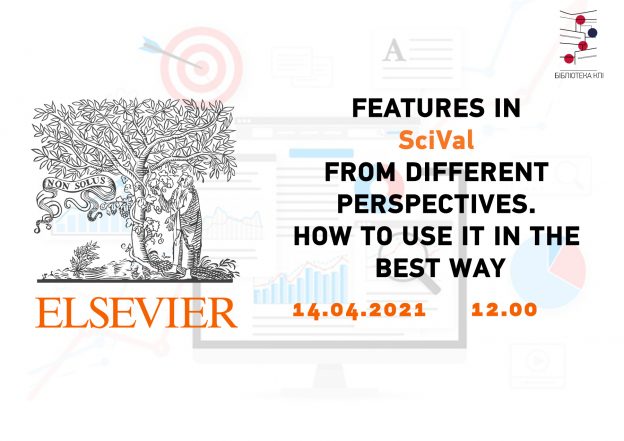 13/04
Library invites researchers, teachers, post-doctoral students, students, librarians and everyone interested to the event dedicated to the most popular international style in social sciences (psychology, law, sociology) – APA Style international citation style of American psychological association: updated 7th version.
13 April at 16:00.
Main issues discussed:
Changes and updates of the 7

th

edition of style;

Peculiarities of references in the text of the work;

Organizing the list of used sources.
Register via the link and join the event!
Бібліотека КПІ
13 квітня 2021 р., 16:00
читати далі
08/04
Friends, here is a sequel! In February we had an astounding success with fluffy online-lecture «Cats in art».
On your multiple requests, a shaggy lecture about doggies is in turn! 
Without complicated dates, strange terminology and strict expert on the other side of the screen. This time there will not be such dramatic events, but there will be an interesting story about the most devoted friends of human.
About those for whom we wake up at the crack of the dawn (even when it is raining) and go together to see sunrise. About those who is so long with us that it seems as though we came to Earth together. About those who leaves their slobbery hugs in our heart forever.
On the meeting we:
will try to find out when the human became a dog's friend;

will learn why the dogs were infinitely loved, but at the same time threatened by them;
will have a look at the enormous amount of doggies pictures of different breed and statuses;
will talk also about the relatives of dogs: sneaky foxes and daring wolves.
Tanya Shyliuk will be online again, she is a designer, history of arts teacher, a volunteer of the charitable fund 'Adopt Don't Stop'.
You should register to participate.
So on Thursday, 8 April at 19:00 put behind you cozy pillows, something tasty and your friends with tails and let's talk about doggies!
Бібліотека КПІ
08 квітня 2021 р., 19:00
читати далі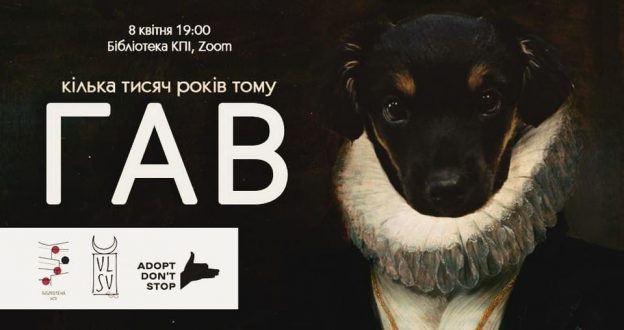 08/04
We would like to remind you about the educational online event within the framework of the cycle for researchers «Clean' Thursday: let's update authors' profiles». On the 8th April at 16:00 please visit «Author profile in Google Scholar: all the details of the update».
Registration via the link.
Google Scholar is a non-commercial search bibliometric engine that indexes academic publications and publishes data about their citation. Google Scholar allows:
cover materials from all regions of the world and all fields of knowledge;

perform an advanced search, including peer-reviewed articles, dissertations, books, annotations, articles from academic publications, websites of higher educational institutions and educational organizations;

search by the author's surname, article title, university or organization affiliation, that can be found in open access on the Internet;

find out the frequency of citation of publication shown on request;

calculate Hirsh index by the author's publications.
Do you want your Google Scholar author profile to be useful?
Join us and hear all the details of updating your author profile from the Library experts.
Бібліотека КПІ
08 квітня 2021 р., 16:00
читати далі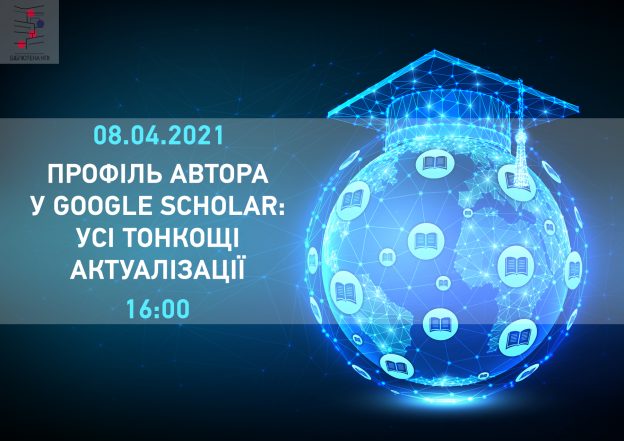 07/04
We invite you to the first meeting of the new educational cycle.
Lots of you know the collection of rare and valuable books of KPI Library or have heard about it. Here lots of interesting secrets are kept: book, historical, university…
We invite you to get acquainted with some of them. Let's begin with the old study books.
Would you like to know, which authors did professors of Kyiv Polytechnic University recommend to students for studying, for example, physics?
Or what was included in the obligatory curriculum in all departments of the Institute?
Have the textbooks used by the students in 1898-1903 been saved?
So the employees of one of the largest library departments are waiting for you on the 7th of April at 16:00 at the lecture «Stories about the life of old study books».
For participation please register via the link.
Бібліотека КПІ
07 квітня 2021 р., 16:00
читати далі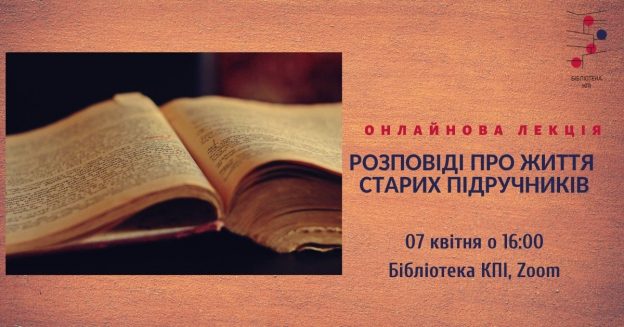 30/03
On the 30th of March at 19:00 lecturers of Fantastic course Ievgeniia Breznytska and Irina Filonenko will tell about three authors at a time!
The cycle «Luminaries of science fiction» will be closed by the story of the Most Famous – Robert Heinlein. 
Heinlein-preacher, Heinlein-ideologist, the Great Heinlein – and just a good writer Heinlein, whose texts are read nowadays as well. People's science fiction writer of America! No wonder that the Library of Congress included the novel «Stranger in a Strange Lan» into the list of «Books that Shaped America».
And we start the new cycle «Forgotten Ukrainian science fiction» (due to numerous requests of participants of Fantastic course) with Ukrainian writers Volodymyr Vladko and Mykola Trublaini.
We will discuss the first Ukrainian work about space flight «Argonauts of the Universe» and the first Ukrainian historical fiction «Descendants of the Scythians» by Volodymyr Vladko. And also we will discuss Mykola Trublaini's science fiction novel «Deep Way» about construction of a tunnel between Moscow and the Far East for high-speed movement of trains. 
The lecture will be held on conditions of pre-registration.
Link to the conference on Zoom will be send to your e-mail on the day of lecture.
Бібліотека КПІ
30 березня 2021 р., 19:00
читати далі