Announcements
09/02
Meeting with Eduard Ivanovich Kuznetsov, who created the Ukrainian aerospace industry and wrote the book «Thirty Years in Orbit».
Eduard Ivanovich Kuznetsov is the head of the public council of the State Space Agency of  Ukraine, and the first vice-president of the Aerospace Society of Ukraine. For 15 years, he was the deputy general director of the State Space Agency and participated in the preparation of all State space programs in Ukraine.
Eduard Ivanovych wrote a book for the State Space Agency's 30th anniversary entitled «Thirty years in orbit. To the formation of the State Space Agency of Ukraine».
How were the military and space forces of Ukraine formed?

What preparations did Leonid Kadenyuk make before he flew into space as the first astronaut of independent Ukraine?

How was the first space vehicle of Ukraine «Sich-1» created?
Eduard Ivanovych will talk about this and much more in person.
Please follow our announcements in case the venue changes.
Registration via the link.
To visit the library, you must have a student card, pass, or passport with you.
We are waiting for you!
Бібліотека КПІ
09 лютого 2023 р., 16:00
читати далі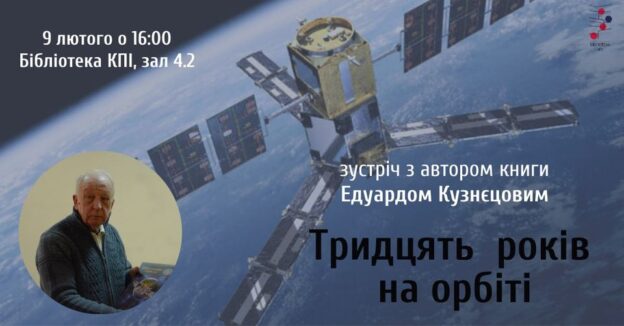 27/01
We invite everyone who wants to attend the master class «Diia. Digital Education: Simple Steps to the Skills You Need».
In the master class, we will consider the following key aspects:
portal «Diia. Digital education»: why, who can use and how;
how to register on the portal;

how the portal is built. Section «My page»: my courses, achievements, certificates;

educational series;
Digigram: checking knowledge, abilities, and skills.
A KPI Library consultant, Olena Stasiuk, leads the master class.
Registration.
To visit the library, you must have a student card, pass or passport with you
Бібліотека КПІ
27 січня 2023 р., 15:00
читати далі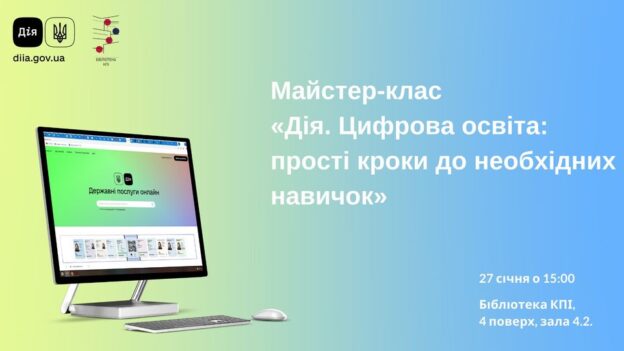 27/01
We have good news for all lovers of old photos of Kyiv!
At 4:30 p.m. on January 27 at the KPI Library, Igor Potabachny, a photo collector and administrator of Vintage Kyiv and Old Photos of Kyiv, will present a book.
The book contains photos from the digitized photo archive of Kyiv architect Borys Vedernikov, which reflect post-war Kyiv of the late 1940s and early 1960s. Hundreds of these photos are unique and have never been published before.
We invite everyone to take advantage of this unique opportunity to chat with the author and get an autograph.
To visit the Library, you must have a student card, pass, or passport with you.
Бібліотека КПІ
27 січня 2023 р., 16:30
читати далі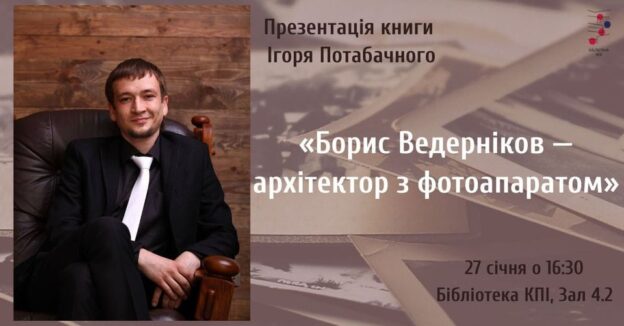 24/01
Finding and processing information is an important stage without which no scientific research is possible. And if you have questions or difficulties during this process, that's not a problem.
Postgraduate students at KPI and everyone interested are invited to attend the webinar «How to find quality educational and scientific information for your research».
During the event, we will find answers to common questions together:
what requirements should educational and scientific information meet?

how to find the right source in a large number of sites and web pages?

how should a search query be formed correctly?

how to save search results?
The webinar is conducted by Olena Kosmina, the chief librarian of the Department of Information Support for Education and Research.
You will receive a link to the Zoom conference in your e-mail on the day of the event!
Бібліотека КПІ
24 січня 2023 р., 16:00
читати далі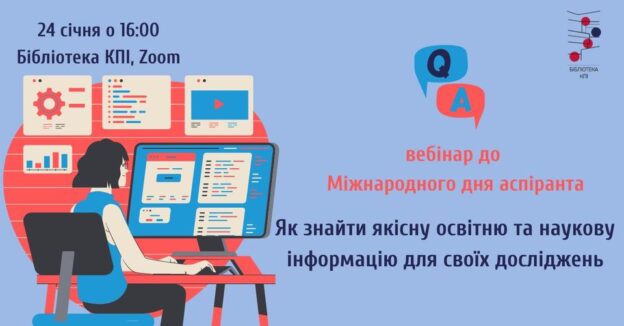 17/01
January 15 is Wikipedia's birthday. And the best way to celebrate it is to join the project.
We invite librarians and everyone who wants to join the international campaign to fill articles with authoritative sources #1Lib1Ref.
Don't know how? Come to roon 1.3 of the KPI Library on January 17 at 3:00 p.m. for a training where we will learn how to add sources to Wikipedia articles and together we will improve our search skills by sharing our professional knowledge.
Бібліотека КПІ
17 січня 2023 р., 15:00
читати далі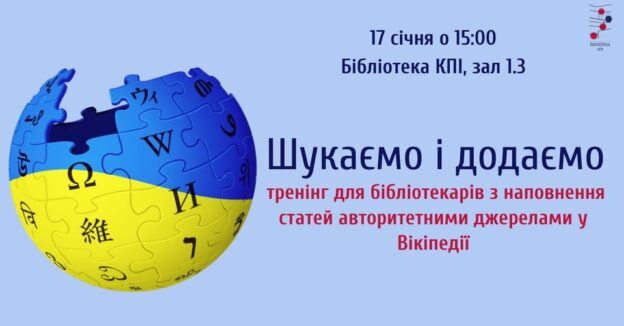 12/01
Have you already made a reading plan for 2023? We invite you to the «Unwinding with a book», where we will, as usual, share our impressions of what we have read and, perhaps, revise our lists.
Worries,  problems and bad news twist us into a spring that does not allow us to live. In order to overcome it, we have to unwind. Let's do it together! And books are a great anti-stress.
Join the good company and tell us which books help you feel better. Share your emotions and receive positivity in return.
To visit the Library, you must have a student card, pass, or passport with you.
Бібліотека КПІ
12 січня 2023 р., 16:00
читати далі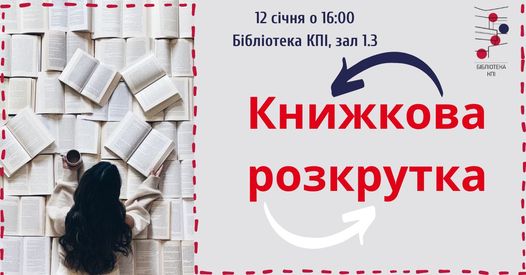 06/01
As part of the work of the «Innovative Foundry Processes and Technologies» group, classes will be held on «Academic Integrity».
Academic integrity is a set of ethical principles and rules defined by law that must be followed by participants in the educational process during learning, teaching and carrying out scientific (creative) activities in order to ensure trust in the results of studies and/or scientific (creative) achievements.
Our speaker –  Yevgenia Kulyk, deputy director of information support for education and research at the KPI Library. Read more about previous actions on academic integrity issues at KPI via the link.
Online on the Zoom platform (Access code: 5U7k1r)
Бібліотека КПІ
06 січня 2023 р., 15:00
читати далі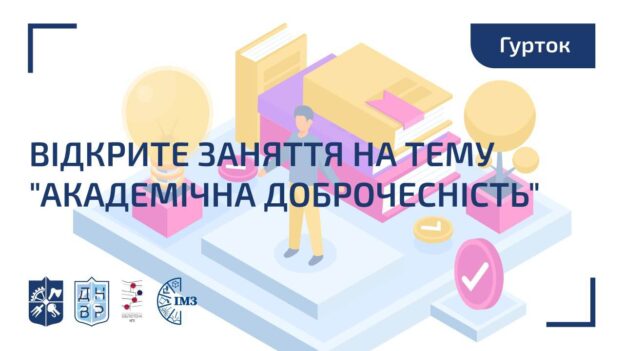 21/12
Hey friends!
Let's create New Year's beauty together. On December 21 (Wednesday) at 4:00 p.m., under any circumstances, we will meet in the KPI Library's first floor hall and we will create:
New Year's toys made of cotton wool;

paper collages.
We will work with our hands, listen to music, turn ordinary
materials into something new and will have fun.
Our guests, ceramic artist Ulyana and collage artist Nastya will help us with.
Please bring all the creative things you have: glitter, paper, magazines, beads, etc.
The number of places is limited! Hurry up to register.
Бібліотека КПІ
21 грудня 2022 р., 16:00
читати далі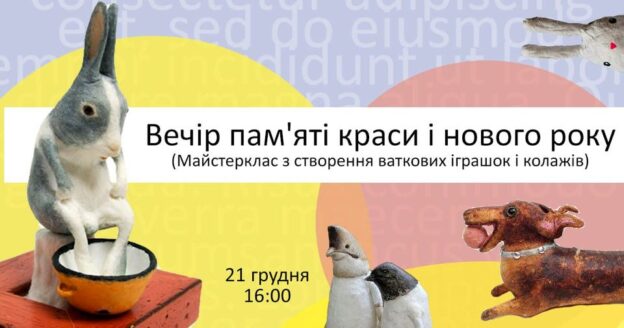 15/12
It is already a good tradition to invite friends and decorate the library Christmas tree together. And this year, despite everything, is no exception.
Therefore, we invite KPIshniks to the Library – to chat, decorate our Christmas tree and create your own festive mood!
Before meeting!
Бібліотека КПІ
15 грудня 2022 р., 14:00
читати далі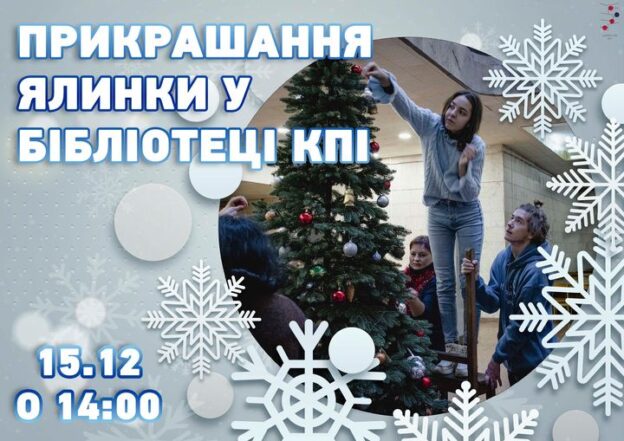 12/12
From December 12 to 19, the second National Reading Week will be held in Ukraine. So we decided to join this event by prolonging the reading and discussion of the book «Ukrainian Basics».
This collection of essays by famous Ukrainians is intended for a wide range of readers.
This time we are discussing the chapter «Order and the social contract». We invite everyone to join!
Registration.
To visit the library, you must have a student card, pass or passport with you.
Бібліотека КПІ
14 грудня 2022 р., 16:00
читати далі