Announcements
07/04
KPI Library invites managers of science and education, deputy deans for research, heads of departments and all the scientists to join on the 7th April at 12:00 scientific and practical seminar«'How to start your adventure with SciVal?»
SciVal is an instrument for analysis of data from the Scopus database which allows visualize achievements of scientific institutions, compare them with other institutions, evaluate potential colleagues and partners, as well as analyze trends in world science.
During the training you will learn what you can use available indexes for and that anyone can do even complicated analysis in just a few minutes.
Key aspects:
what is SciVal and what data it uses;

how to receive access to that instrument;
how the navigation works and where to look for the answers;
theory combined with practice.
Presenter:  Bartlomiej Wieckowski, consultant on Elsevier company informational resources.
Participation in seminar is free.
Pre-registration via the link.
Бібліотека КПІ
07 квітня 2021 р., 12:00
читати далі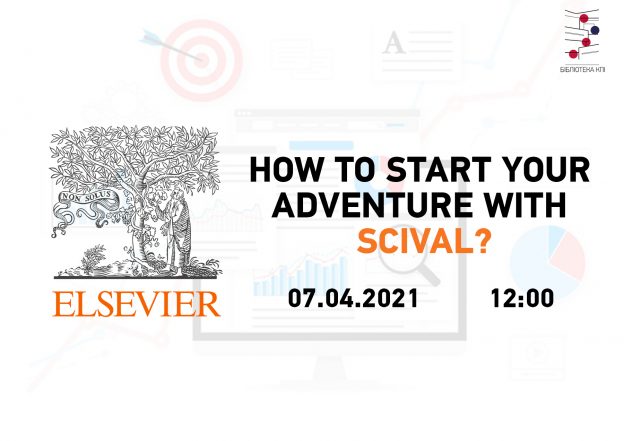 25/03
New educational online event within the framework of the cycle for researchers «Clean' Thursday: let's update authors' profiles».
Register here.
Researcher ID – personal identifier of authors of scientific publications indexed in the international database Web of Science. ResearcherID allows:
create a profile of a scientist and combine different spellings of the surname in Latin;

form the list of own publications, included into Web of Science database as well of those which are not included into Web of Science database;

find out own scientometric indexes of publications that are included into Web of Science Core Collection (citation index, Hirsh index);

synchronize ResearcherID with ORCHID;

record the work of a scientist as a reviewer, expert and editor;

trace the history of expert evaluation and work as a member of the editorial board of academic journals.
Бібліотека КПІ
25 березня 2021 р., 16:00
читати далі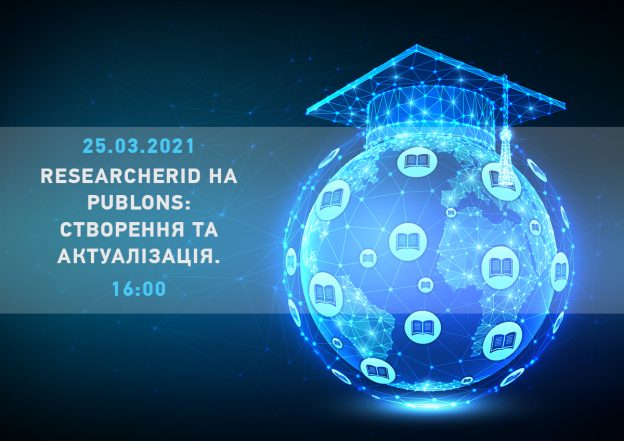 24/03
Human between the Worlds.
The embodiment of «art synthesis».
Author of musical painting. Philosopher who expressed his original view of the World with a help of sounds, contours, lines, paints, poetic images…
MuzClass project invites you to dive into the fantasy world of Mikalojus Čiurlionis, thin and transparent, in which strange music sounds softly, like the ringing of crystal bells, and carries the secret of the universe.
Let's meet on the 24th of March at 19:00 at Zoom platform on condition of previous registration.
Бібліотека КПІ
24 березня 202 р., 19:00
читати далі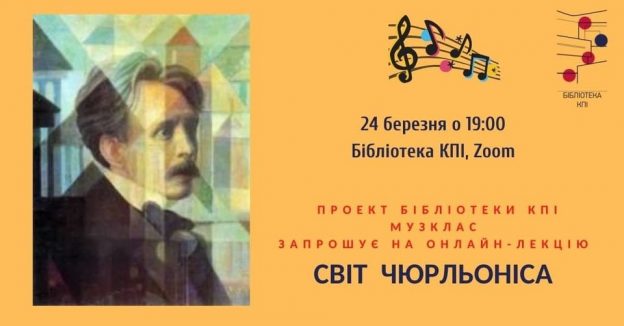 24/03
On the 22-28 March 2021 European Media Literacy Week is celebrated. What kind of event is this?
This is an annual campaign to inspire and teach people digital skills. It is held in coworking spaces, community centers, schools, universities, libraries throughout Europe.
Within the framework of European Media Literacy Week #AllDigitalWeek2021 we invite you to hear all the «Truth about fakes».
Online lecture of PhD, associate professor of Department of Publishing and Editing Evhen Mahda will be held on the 24th of March at 17:00 on conditions of previous registration.
Бібліотека КПІ
24 березня 2021 р., 17:00
читати далі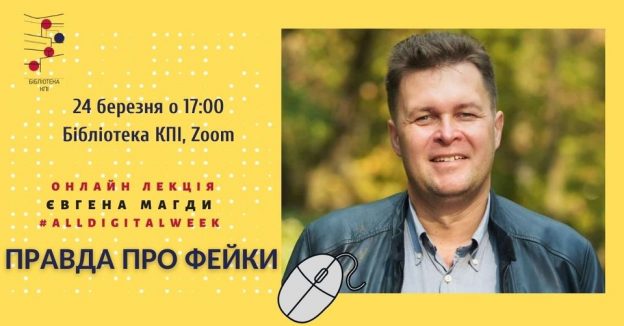 22/03
We know that you missed our poetry evenings.
And here, KPI Poetry Evenings return!
We have a nice chance for the first meeting after a long break.
21 of March is the International Poetry Day. Since it is the holiday, we will meet on the next day, on Monday, 22 of March at 19:00.
We will read the favorite poetry. Any countries, authors, epochs. If you write poetry, there is more reason to come and share your works! We will support and give a feedback.
Meeting will be held on the conditions of previous registration.
Бібліотека КПІ
22 березня 2021 р., 19:00
читати далі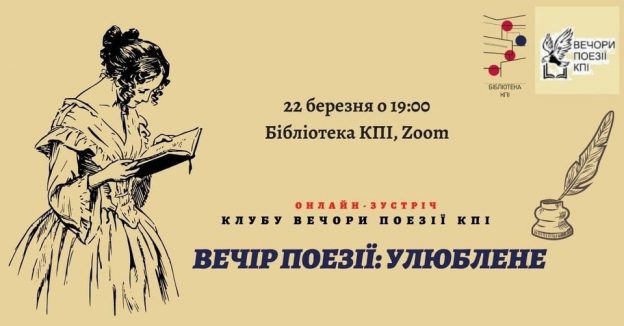 18/03
Within the framework of online event for researchers «Clean' Thursday: lets update authors' profiles» we invite you on 18th of March at 16:00 to the webinar «Scopus ID: good when it is one, and what to do with the rest».
Join us and get to know more on how:
update and merge authors profiles in Scopus;

catch up 'lost' citation;
add to the database publication that got into Scopus accidentally, although not indexed in journal;
choose edition for publication in journals that are included into Scopus;
Differ author's profile from the researcher's own cabinet in Scopus.
Бібліотека КПІ
18 березня 2021 р., 16:00
читати далі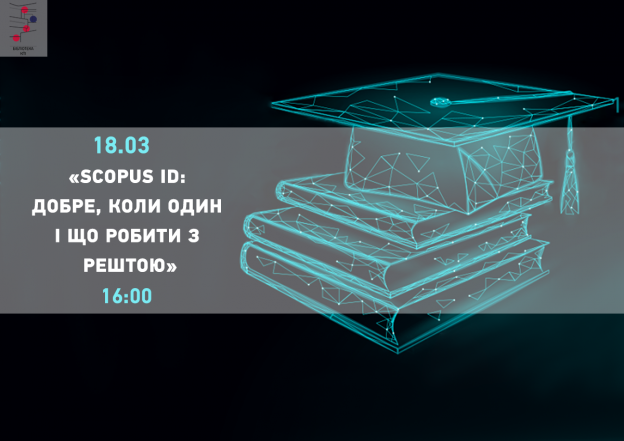 12/03
In December founder of PostArt project Olha Maksymiv started telling about Ukrainian cinema.
On the 12 of March we invite you to the second part of story of Ukrainian cinema. In particular, we will learn about cinema of «stagnation», «perestroika» and Independence period.
We will recall the significant figures: Muratova, Illienko, Balaian, Bykov, Hovorukhin, Stupka. We will discuss modern movies and the future of our cinema. Join us!
Registration via the link.
Бібліотека КПІ
12 березня 2021 р., 18:00
читати далі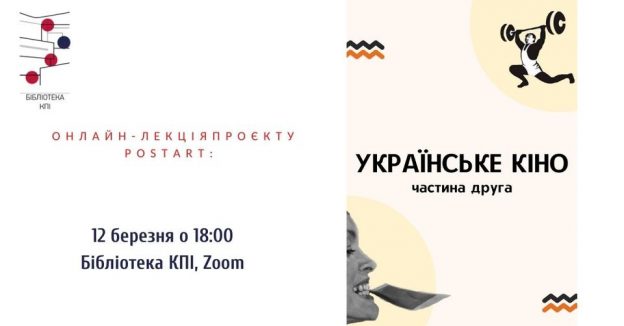 11/03
We remind you that within the framework of online event for KPI researchers «Clean' Thursday: lets update authors' profiles» will be held webinar «ORCHID: researcher identifier in digital environment».
11 th March at 16:00
Join and get to know more about the role of researcher identification:
how to use ORCHID?
what data is important to specify when creating an identifier?
how to quickly add your research?
You can ask the speaker any questions on the theme discussed.
Register here.
Бібліотека КПІ
11 березня 2021 р., 16:00
читати далі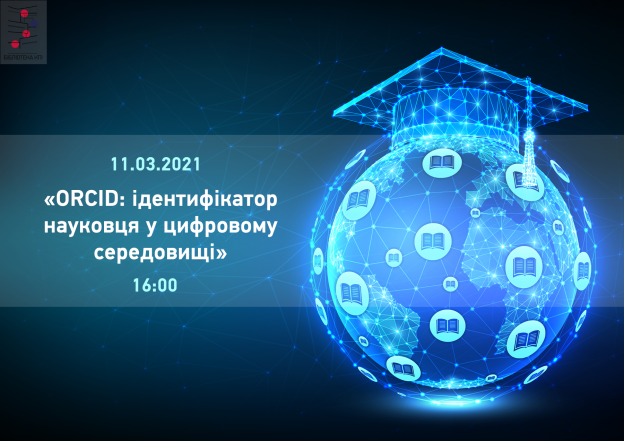 05/03
What help and services gives KPI Library to researchers for informational support on different
steps of research cycle?
Soon Evgeniia Kulyk, head of the Center for education and research support, will tell us live about this.
Stream «Library to researcher» or «Want to have more time for research – you have the library» is for you: external PhD students, aspirants, teachers, scientists.
You have chance to get to know more on how:
find high-quality, freely available information resources subscribed to by scientists, as well
as those that can be tested?
disseminate the results of your research?
choose digital tools that should be used to support scientific communication?
order UDC index for your scientific materials?
place your educational and scientific materials in the institutional depository?
choose a reputable international publication to publish and who will consult?
evaluate the results of the research and where to look for ideas and inspiration for
new discoveries?
order an individual consultation or educational event for a group of researchers
(through the Zoom service)?
Join us on the 5 March at 16:00 via the link.
Бібліотека КПІ
05 березня 2021 р., 16:00
читати далі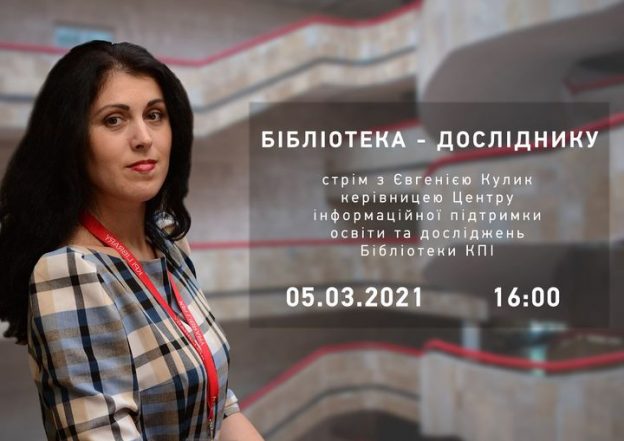 04/03
Who needs expensive Chinese tea if there is a wonderful Lipton Bombay Bazaar in triangular bags? With this conviction, Kateryna Novak, author of a blog about culture and travel in China
DivChina, lived in China for the first six months.
The only time she went to the tea shop, rather out of curiosity, ended in an unconditional surrender and complete rejection of the high price of 50 grams of tea.
Then Kateryna asked her mother to put the same Lipton in the parcels from home, until she was at her first tea ceremony and began a journey into the tea world of China.
She passed the way of a person who went to China with her tea in bags, and now can not imagine life without her favorite teas from China. Kateryna Novak lived and studied in China for 2 years, was in 16 of the 23 provinces and loves this country with all her heart. We invite you to a meeting dedicated to Chinese tea, where Kateryna will share her knowledge about Chinese tea, tell you how to distinguish sorts, where to start getting acquainted with Chinese tea, how much Chinese tea can really cost, whether to invest in it, what utensils to choose for brewing , in parallel will show where and how to grow camellias (tea bush) and will try to make you fall in love with China and its tea treasures.
See you at the tea meating! Lecture will be held on the 4 th of March at 19:00 on conditions of previous registration.
Zoom-conference
04 березня 2021 р., 19:00
читати далі