Announcements
11/03
We remind you that within the framework of online event for KPI researchers «Clean' Thursday: lets update authors' profiles» will be held webinar «ORCHID: researcher identifier in digital environment».
11 th March at 16:00
Join and get to know more about the role of researcher identification:
how to use ORCHID?
what data is important to specify when creating an identifier?
how to quickly add your research?
You can ask the speaker any questions on the theme discussed.
Register here.
Бібліотека КПІ
11 березня 2021 р., 16:00
читати далі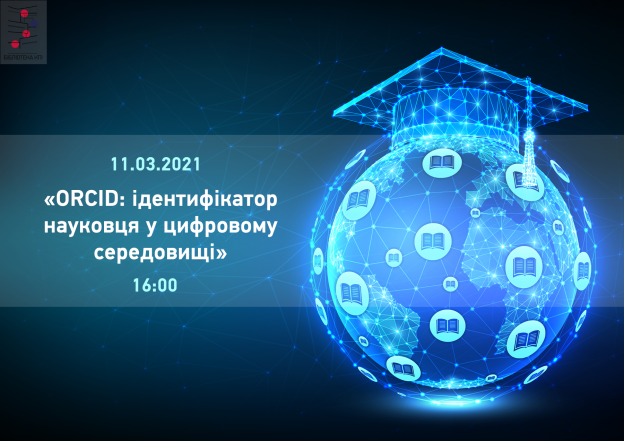 05/03
What help and services gives KPI Library to researchers for informational support on different
steps of research cycle?
Soon Evgeniia Kulyk, head of the Center for education and research support, will tell us live about this.
Stream «Library to researcher» or «Want to have more time for research – you have the library» is for you: external PhD students, aspirants, teachers, scientists.
You have chance to get to know more on how:
find high-quality, freely available information resources subscribed to by scientists, as well
as those that can be tested?
disseminate the results of your research?
choose digital tools that should be used to support scientific communication?
order UDC index for your scientific materials?
place your educational and scientific materials in the institutional depository?
choose a reputable international publication to publish and who will consult?
evaluate the results of the research and where to look for ideas and inspiration for
new discoveries?
order an individual consultation or educational event for a group of researchers
(through the Zoom service)?
Join us on the 5 March at 16:00 via the link.
Бібліотека КПІ
05 березня 2021 р., 16:00
читати далі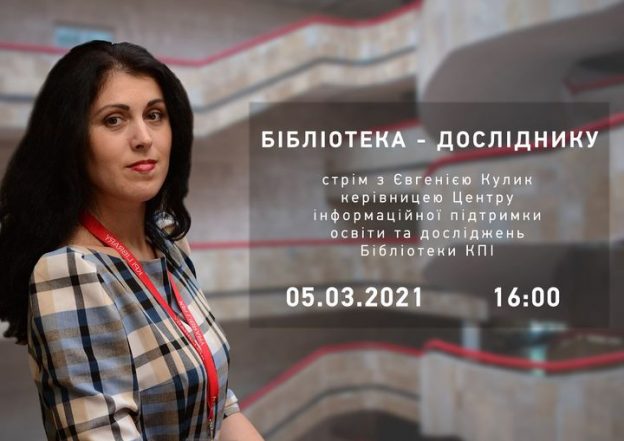 04/03
Who needs expensive Chinese tea if there is a wonderful Lipton Bombay Bazaar in triangular bags? With this conviction, Kateryna Novak, author of a blog about culture and travel in China
DivChina, lived in China for the first six months.
The only time she went to the tea shop, rather out of curiosity, ended in an unconditional surrender and complete rejection of the high price of 50 grams of tea.
Then Kateryna asked her mother to put the same Lipton in the parcels from home, until she was at her first tea ceremony and began a journey into the tea world of China.
She passed the way of a person who went to China with her tea in bags, and now can not imagine life without her favorite teas from China. Kateryna Novak lived and studied in China for 2 years, was in 16 of the 23 provinces and loves this country with all her heart. We invite you to a meeting dedicated to Chinese tea, where Kateryna will share her knowledge about Chinese tea, tell you how to distinguish sorts, where to start getting acquainted with Chinese tea, how much Chinese tea can really cost, whether to invest in it, what utensils to choose for brewing , in parallel will show where and how to grow camellias (tea bush) and will try to make you fall in love with China and its tea treasures.
See you at the tea meating! Lecture will be held on the 4 th of March at 19:00 on conditions of previous registration.
Zoom-conference
04 березня 2021 р., 19:00
читати далі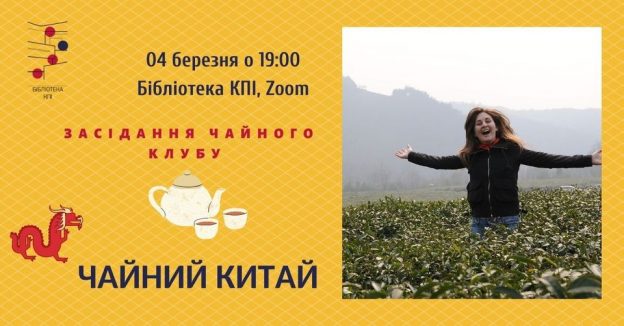 02/03
A biochemist by profession, a popularizer of science by vocation, a dreamer and fantasy appreciator – these are all about Isaac Asimov. His novels are a bizarre intertwining of surprise and logic. His works are the most amazing creations of the author, which exist according to the Three Laws of Robotics. Want to know more about these laws? Maybe you will need them to create your own robot?
Arthur Clarke, a physicist and mathematician by profession, futurist, scientist and inventor, is the author of «solid» science fiction. His books «Childhood's End», «Rendezvous With Rama», «2001: A Space Odyssey», «The Fountains of Paradise», «The Songs of Distant Earth» about space journeys, colonization of planets and the Moon, meeting other civilizations became classics. An also there are «Clarke's three laws»…
Online meeting on conditions of prior registration will hold Iryna Filonenko and Eugeniia Breznytska.
Zoom-conference
02 березня 2021 р., 19:00
читати далі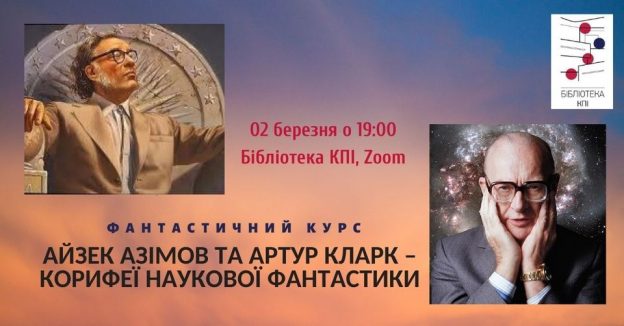 25/02
On the 25 of February at 16:00 third and final lecture of our cycle 'With my life to become equal with you' will be held.
On this day staff of NTU of Ukraine «Igor Sikorsky KPI» honor Lesia Ukrainka with three speeches:
Librarians of KPI Library will tell about book exposition dedicated to the anniversary of Lesia Ukrainka;

«

Three times appearing love: as flight of soul, as death, as resurrection

»

, lecturer Herasymchuk Valentyna Andriivna, professor of department of Ukrainian language, literature and culture;

«

…with my life to become equal to you

»

, speaker Novak Olena Mykolaivna, teacher of department of Ukrainian language, literature and culture.
To participate, please register via link. 
Link to the lecture in Zoom will come to your email in two hours before the start of event.
Бібліотека КПІ
25 лютого 2021 р., 16:00
читати далі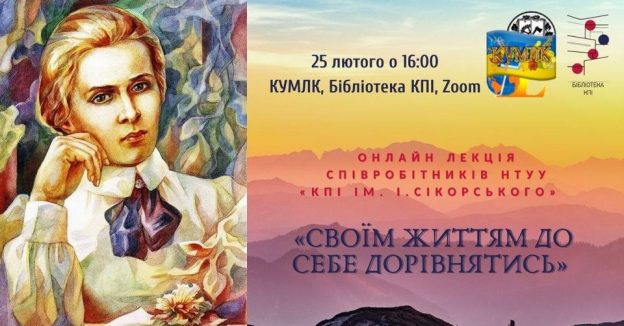 24/02
Second lecture in three days cycle dedicated to the birthday of Lesia Ukrainka will be held on 24 of February at 16:00.
Speaker of the online-lecture «Onto the road I came in early Spring…» will be deputy director of science and education of the National Literature Museum of Ukraine Sennikova Raisa Pavlivna.
To participate, please register via link.
Link to the lecture in Zoom will come to your email in two hours before the start of event.
Бібліотека КПІ
24 лютого 2021 р., 16:00
читати далі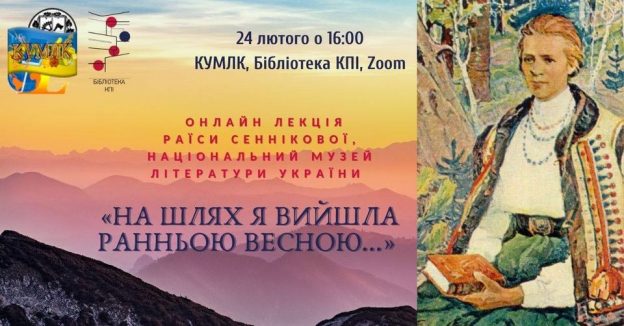 23/02
On the 25 of February it will be 150 years since Lesia Ukrainka was born.
Department of Ukrainian language, literature and culture together with KPI Library organized a cycle of lectures dedicated to the anniversary of Lesia Ukrainka with general title «Who never lived inside the tempest will never know the price of strength».
First lecture of the cycle «The one whose thoughts don't fly around the world so free is not a poet» will be held on the 23 of February at 16:00. Speaker is Konstantynivska Oksana Vitaliivna, senior associate of the Prominent activists of Ukrainian culture museum.
To participate, please register via the link.
Link to the lecture in Zoom will come to your email in two hours before the start of event.
Бібліотека КПІ
23 лютого 2021 р., 16:00
читати далі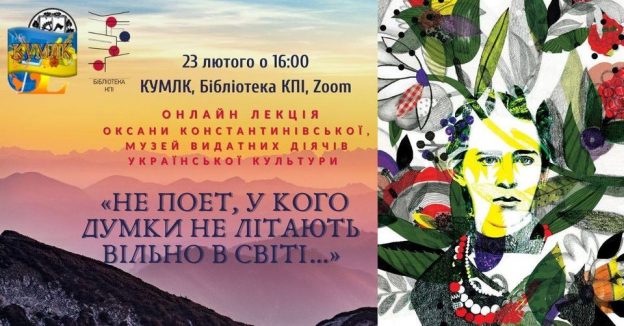 22/02
History often plays a nasty trick with us. Sometimes beautiful and fascinating myth prevails over the real facts.
Antonio Salieri became the victim of such story, depicted by the Pushkin himself. Salieri, the talented composer, who devoted his life to music and helping young composers in reaching success.
Who was the real Antonio Salieri?
MuzClass project invites you to conduct a small investigation of big tragedy together: people trust in what is the most intriguing.
Let us meet on 22 of February at 19:00 at Zoom platform, please register in advance. 
Бібліотека КПІ
22 лютого 2021 р., 19:00
читати далі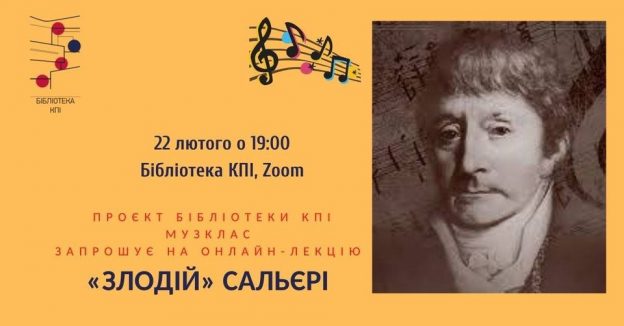 19/02
21 February is the International Mother Language Day.
International Mother Language Day was initiated and recognized by the United Nations General Assembly in 1999 to protect language and culture diversity. The annual celebration since 2000 has to promote linguistic and cultural diversity of the world.
Department of Ukrainian language, literature and culture invites everyone to talk about modern language issues on Friday 19.02.2021 at 19:00.
Ivannikova Liudmyla Volodymyrivna, folklore expert, Candidate of Philological Sciences, senior associate of the department of Ukrainian and foreign folklore studies of  The Rylsky Institute of Art Studies, Folklore and Ethnology of NAS Ukraine, will be the guest.
Meeting theme is «Memes as embodiment of folk forms».
On the meeting we will discuss the origin of modern memes, in particular, the language constructions, which we, often unconsciously, use nowadays, and which in reality are traditional and quite old folklore creations. On different examples the expert will show how the same language form, some expression can change and repeat for a long time, being anecdote, joke in the past, and a meme in present.
To participate please register in advance via the link.
Бібліотека КПІ
19 лютого 2021 р., 19:00
читати далі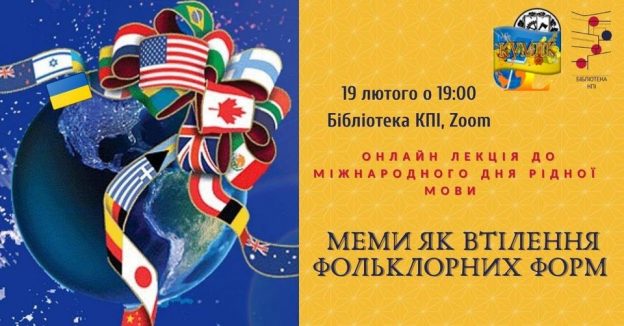 17/02
When it is so freezing, coffee, blankets and cats should be given to everyone! What would we do without these fluffy aliens?
On the 17 of February we celebrate Cat Day in Europe. The day was initiated by Italian journalist Claudio Angeletti.
We invite you to register for online lecture of Tetiana Shyliuk «Cats in art» on 17th of February at 19:00 on the Cat Day in Europe.
During the meeting we will:
try to find out how and when cats proposed us partnership;

get to know in what games played Cat Goddesses and is it hard to pull wagon being a cat;

reflect on why fluffies agreed to play part of mystics, monsters from hell and temptators;

see how cat amnesty was declared and why modern people brought the world to their furry paws.
Grab your fluffy friends, brew aromatic tea or tasty coffee, and sit comfortable.
Бібліотека КПІ
17 лютого 2021 р., 19:00
читати далі