Announcements
10/02
Tea club returns!
We have missed our cozy TEA meetings at the KPI Library exTrEmAlly, so we have decided to renew in the new year activities of TEA club.
On the meetings we will talk about everything connected to the «tea» theme: history, traditions,
rituals, and special attribute «for tea».
First meeting on the 10 th of February at 19:00 will be dedicated to the question how the usual
TEApot was born. We will learn where, when and in which circumstances it appeared, about
traditions of making and using this special ware in different countries.
Lecture will be held on condition of previous registration.
Link to the Zoom meeting will be send to your email in 2 hours before the event.
We invite you during online meeting to make a cup of your favorite TEA and recall interesting, funny, wise tea stories that has ever happened to you or which you have heard.
We hope that our meetings will be interesting and useful for you!
Бібліотека КПІ
10 лютого 2021 р., 19:00
читати далі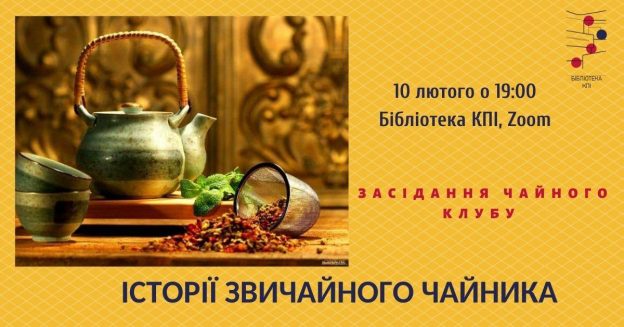 09/02
Warm online-talk in Zoom about cold Antarctic and about polar stations. In particular, about
Ukrainian Antarctic station Vernadsky Research Base.
On the 9 th of February at 19:00 after previous registration you will learn:
how people work in completely unfavorable conditions, and what geophysical processes are happening there;
about the researches to which is dedicated academic activity in Antarctic;
about work and daily life of polar researchers;
about the difficulties and challenges that are waiting for those who chose to spend
a year of their life captured by snow and ice, and is it worth everything;
what is interesting in the location of our Base and what are its nearest perspectives.
Link to our online event will be sent to your email on the 9 th of February at 17:00.
Бібліотека КПІ
09 лютого 2021 р., 19:00
читати далі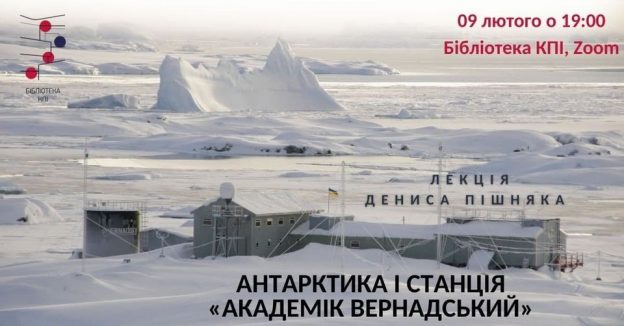 29/01
Every year in the last Saturday of January National seed swap day is celebrated.
In USA the initiative of 'seeds library' has become popular. In Ukraine it just begins to develop, but libraries already have interesting experience and are ready to share it with community.
This year Seed snap day is on the 30 of January, but we celebrate it a little bit earlier and invite you to join!
On 29 th of January at 16:00 within the framework of project Eco-friendly Library we will talk:
about the project Seeds library with executive director of Live modern library – Charity fund Library Country Luciena Shum;
about new ecological initiative and libraries experience in seeds exchange;
about how you can join the project and organize seeds exchanges.
To participate please register in advance via the link.
Link of Zoom-conference you will receive on your email in two hours before the meeting.
Бібліотека КПІ
29 січня 2021 р., 11:00
читати далі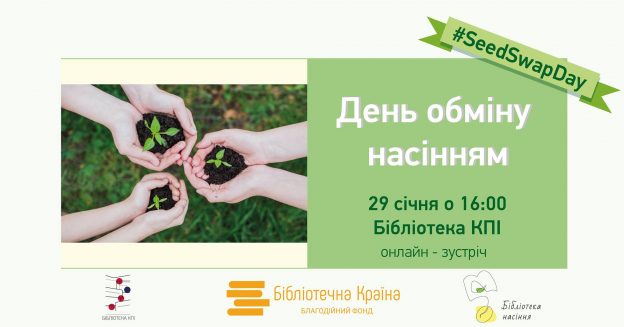 26/01
Harry Harrison was a writer, editor of science fiction magazines, illustrator, author of more than 200 published stories and 50 novels. On January, 26, at 19:00 on Zoom platform we will talk about his works:
Adventure «Deathworld»;

Cloak-and-dagger «The Stainless Steel Rat»;
Antimilitaristic «Bill, the Galactic Hero»;
Alternative «West of Eden

»
… and about other stories with breath-taking adventures, unexpected plot twists, and obligatory author's sense of humor.
To participate online lecture please register via the link.
Link to the zoom-conference you will receive to your email two hours before the meeting begins.
Бібліотека КПІ
26 січня 2021 р., 19:00
читати далі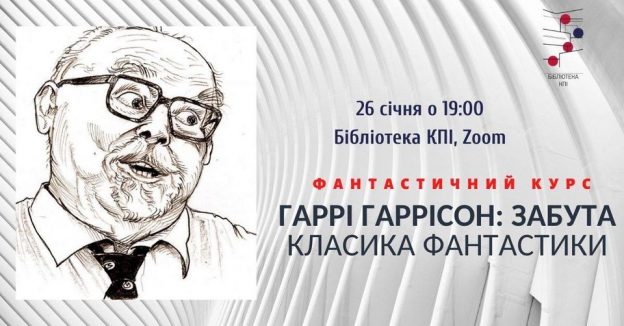 27/01
he last genius of Italian Baroque. Italian Bach. Red padre. Composer, whose music, being serious, is still understandable to everyone.
That is all about Antonio Vivaldi! How Vivaldi managed to become desired music companion to everyone? Why avid supporters of light music genres, who think that classic music is weird and boring, make an exception for Vivaldi?
Everyone is excited about his music, and that excitement is sincere.
MusClass project invites you to share excitement about classical works of Antonio Vivaldi that became hits for ages and conquered millions of admirers.
Online meeting will be held on 27 of January at 19:00 at Zoom platform, registration needed.
Бібліотека КПІ
27 січня 2021 р., 19:00
читати далі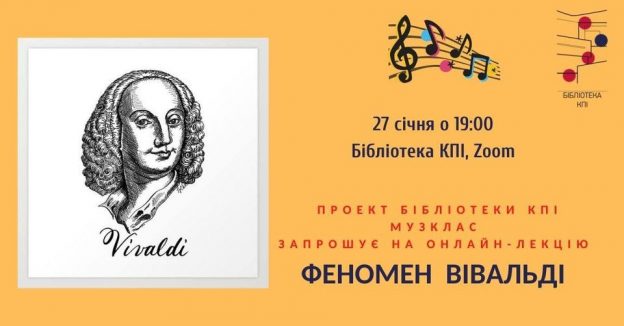 21/01
Are you studying and are in process of own academic research? Clearly enough that on different research stages lots of questions appear:
Where and how to find reliable information;

How to save your search results;

How not to violate the principles of academic integrity incidentally;

How to cite sources and format reference list according to the Ukrainian or international standards.
These are the questions the experts of KPI Education and research support center are ready to answer live.
Dedicated to the International Day of Postgraduate Student on 21 January at 16:00 KPI Library invites ALL INTERESTED postgraduates for online fast question round (question-answer). During one hour we will answer your questions.
To participate the event please register in advantage via the link and ask questions on the themes mentioned. Registration form. 
Link to zoom-conference you will receive by your email in 2 hours before the meeting.
Receive answers and save time for your research!
Бібліотека КПІ
21 січня 2021 р., 16:00
читати далі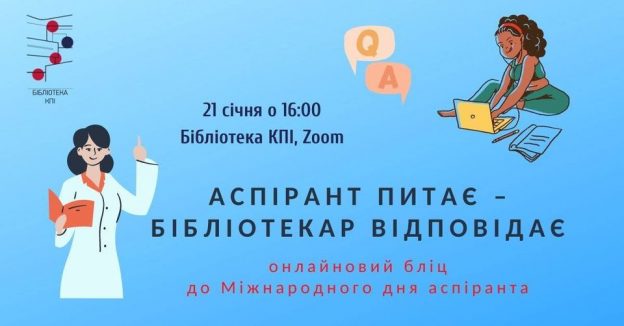 13/01
We celebrated New Year, Christmas, and here we have a new holiday – Old New Year!
Is it New or Old? And «Where the Old New Year comes from»?
That is what on the 13 th January at 18:00 our dear and loved Mykhailo Borysovych Kalnyckyi will tell us. He is a historian, expert in Kyiv history, writer, journalist, and we are always looking forward to meeting him!
Online lecture will be held on Zoom platform, join after registration.
Бібліотека КПІ
13 січня 2021 р., 18:00
читати далі
22/12
Our meetings were stopped by the quarantine. But we haven't told you everything. Let's meet again, now online?
On the 22nd of December at 18:00 we will talk about Ray Bradbury, who is always in trend and popular. And about Roger Zelazny who has been a little forgotten, and that is wrong.
Ray Bradbury. He was called «good old storyteller», and he himself thought he «was created by the books». He knew since he was 12 that he would be a writer and dreamed to be buried on Mars. He created new genre of autobiographic fantasy, but his works are considered to be beside the genres.  He is the author who teaches people to imagine and to think.
Roger Zelazny is the leader of New wave movement in science fiction, when the sci-fi writers paid attention to the humans and their inner world instead of robots and space ships.
While studying Roger Zelazny did judo and martial arts, wrote poetry and sci-fi novels, learned to play chess, learned Hindi and Japanese, was fascinated by the meditation and mystic, mythology and psychology. And then all those knowledge he used in his books: both in fantasy and science fiction, and he was a master to mix those genres.
To visit Fantastic course, please register via link.
Бібліотека КПІ
22 грудня 2020 р., 18:00
читати далі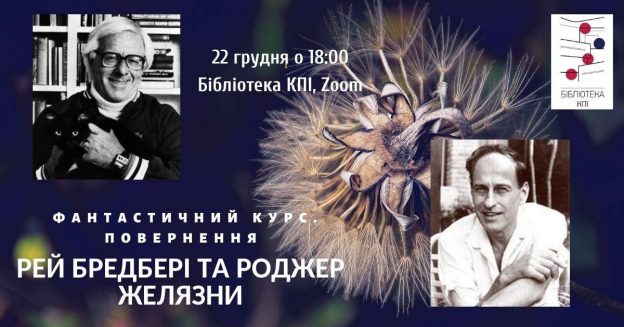 18/12
Hello, friends! Finally we again organize events in cooperation with PostArt. Since 18th December we organize lectures.
On the first meeting Olha Maksymiv will tell us about Ukrainian cinematography. The general overview will take 2 lectures. First – from the birth till 'Khrushchev Thaw', second – from «Era of Stagnation» till nowadays.
On Friday we will speak about Ukrainian movies poster, creativity of Dovzhenko, Illienko, Mykolaychuk, Kavaleridze, Vertov.
Why Paradzhanov can be called Ukrainian director and how pomegranate is related to it?
Lectures will be held in Zoom, please join: it will be very interesting.
The link will be sent on 18.12 at 16:00 to your email after you fill the form.
Attention!
The time can be changed, you will be informed beforehand.
Бібліотека КПІ
18 грудня 2020 р., 18:00
читати далі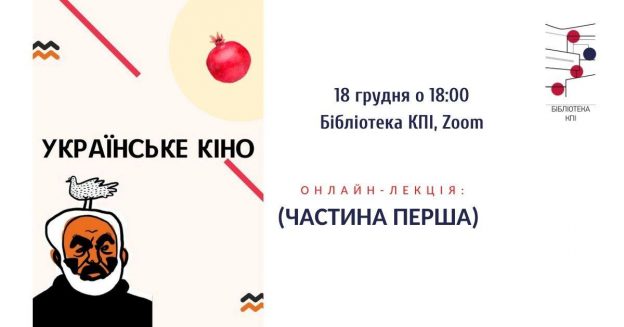 09/12
What do we know of bio-hacking? That is the new and revolutionary direction in biotechnology.
Bio-hacking is based on the genetic engineering. The word bio-hacking means to «hack»  biological objects, in particular – their genetic code.
What bio-hackers do? That is the question we will ask on the 9th December at 19:00 the founder of the first DIY bio-hacker laboratory Dariia Dantseva.
We will speak about «How the first DIY DNA-vaccine in Ukraine was tested?», receive answers to other questions and will hear lots of interesting information!
You can join online meeting if register.
Бібліотека КПІ
09 грудня 2020 р., 19:00
читати далі