Announcements
20/05
20th of May is the 15th anniversary of celebration of Vyshyvanka Day.
For Ukrainians, an embroidered shirt is a talisman and a link between generations. 
For the Vyshyvanka Day we have a wonderful gift for everyone. The KPI Library together with the Department of Ukrainian language, literature and culture invited to give a lecture Volodymyr Shchybria, candidate of historical sciences, director of Folklore and ethnography center of Philology institute of the Taras Shevchenko National University, assistant of Folklore studies department.
On the 10th of May at 14:15 we will talk about the history of vyshyvanka, embroidery techniques, traditional ornaments and features of the cut of the Ukrainian embroidered shirt.
The lecture will take place on the zoom platform subject to prior registration. 
A link to the conference will be sent to your e-mail on the day of the lecture.
Бібліотека КПІ
20 травня 2021 р., 14:15
читати далі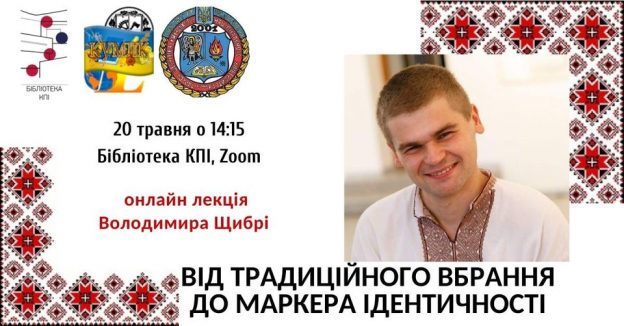 20/05
Tea club meetings continue in the KPI Library.
In fact, there are so many topics to discuss! Tea is such a thing that you can drink and talk about it endlessly. 
For example – «tea» traditions of different countries… We have already heard the story of Chinese tea and tea rituals in this country. Now it's time to learn about the Japanese tea ceremony and, in general, the place of tea in the life of the Japanese.
So on the 20th of May Tetiana Kulkova from the Ukrainian-Japanese Center will tell about Japanese tea culture. The meeting starts at 19:00.
We invite everyone!
To participate please register via the link.
Link to the conference in Zoom will be sent to your email on the day of the event.
Бібліотека КПІ
20 травня 2021 р., 19:00
читати далі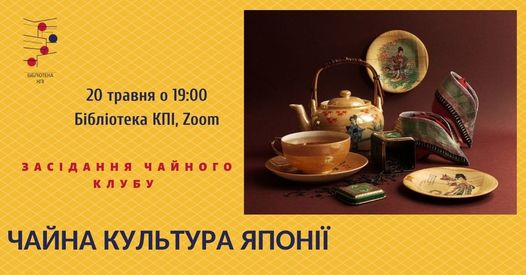 14/05
On the 15th of May two dates are celebrated in Ukraine: International Astronomy Day and Science Day in Ukraine.
That is why KPI Library invited an astronomer and scientist, and a good friend of the Library Juliana Kuznetsova.
So we will talk about the young science ARCHEOASTRONOMY.
The subject of its study is the astronomical ideas of ancient people, the search and study of ancient megalithic observatories, ancient calendars and the restoration of astronomical observations (drawings on rocks, in caves, etc.).
At the online meeting we will get answers to many interesting questions, in particular:
When did people become interested in the sky and observe the celestial bodies?

What methods and tools were used for this?

What practical use did ancient people receive from astronomical observations?

Since when can we assume that astronomy has become a science?

How long ago did one of the first solar-lunar observatories, such as Stonehenge, appear?

Who created the geoglyphs of the Nazca Desert and why?
Lecture will be held on the 14th of May at 19:00 on conditions of prior registration.
Бібліотека КПІ
14 травня 2021 р., 19:00
читати далі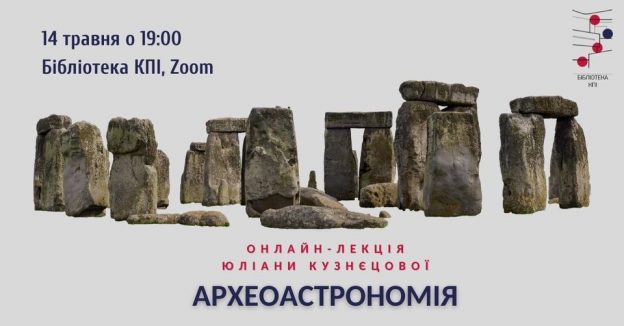 18/05
We invite you to join the open dialogue «GoodIntegrity: values in everyday actions».
On the 18th of May first open discussion will be held in the students space on the theme of academic integrity in everyday university life.
The event is conducted commonly by the Department for Student Affairs, Library, Students Council, Professional Committee and Igor Sikorsky KPI Scientific society of students, graduate students, doctoral students and young scientists.
Academic integrity is one of the main values to which the attention of the entire educational space is directed. Copywriting and biased assessment are serious and pressing issues that cause a lot of controversy and disagreement, both among students and teachers. That is why we want to thoroughly discuss these issues and work together to find ways to solve them.
The aim of our event is:
Discussion of the implementation of the principles of academic integrity among students;

Open and honest discussion with students about writing and biased assessment;

Finding ways to overcome the challenges of higher educational institutions on the formation and keeping of the principles of academic integrity in the educational environment.
After registration you will receive confirmation e-mail containing information about joining the meeting.
Бібліотека КПІ
18 травня 2021 р., 15:00
читати далі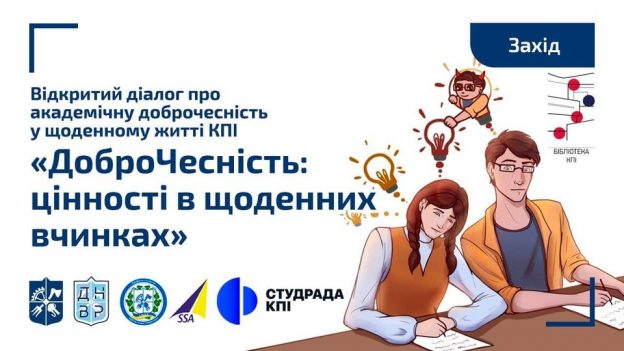 12/05
Dear friends and users of the library! We continue to get acquainted with the treasures of the university library. 
The next meeting will be devoted to a special type of textbooks – lithographed textbooks. Lithography is a separate type of graphic art, when the image is created by applying a layer of ink on paper from a printing plate under strong pressure. This way you can make prints of works of art, but not only: you can also print manuscripts. 
That is what we have in our collection: the lithographed lecture notes. This is a fairly large collection of publications – more than 150. Let's talk about them… And we will find out which of the teachers of Kyiv Polytechnic published such works at their own expense, how they were designed outside and inside, how different marginals (inscriptions, marks, stamps, etc.) can tell we have an interesting story…
We are waiting for you on the 12th of May at 19:00 at the lecture «Lithographed textbooks». To participate please register via the link.
Бібліотека КПІ
12 травня 2021 р., 19:00
читати далі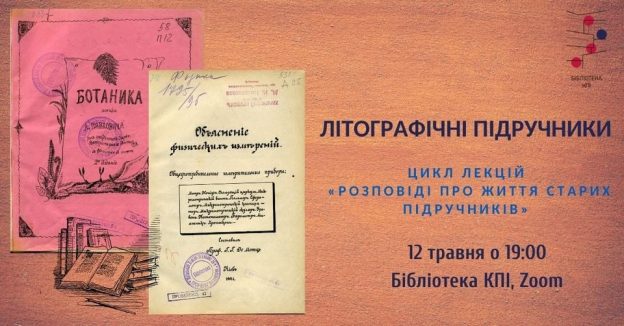 29/04
We continue the cycle of educational events on updating authors' profiles. This time the theme is «ResearcherID on PUBLONS: creating and updating».
We invite you to join us on 29th of April at 16:00.
ResearcherID is a personal identifier of authors of scientific publications indexed in the international Web of Science database.
Join and learn how?
Create a profile of a scientist and combine different spellings of the surname in Latin;

Create a list of own publications, both included in the Web of Science database and those that are not included in it;

Determine own scientometric indicators of publications included in the Web of Science Core Collection (citation index, Hirsch index);

Synchronize ResearcherID with ORCHID;

Note scientist's works as a reviewer, expert and editor;

Trace the history of expert evaluation and work as a member of the editorial board of scientific journals.
Register here and join
Бібліотека КПІ
29 квітня 2021 р., 16:00
читати далі
27/04
Impressionism is one of the brightest and most important phenomena in European art, which largely determined the entire development of contemporary art.
 Impressionism was a kind of revolution in art that changed the perception of works of art as integral, monumental things.
 Impressionism brought to the first place the individuality of the creator, his own vision of the world, pushed into the background political and religious issues, academic laws. It is interesting that emotions and impressions, rather than plot and morality, played a major role in the works of the Impressionists. 
We invite you to experience the true beauty of life in the light of the works of composers and artists of Impressionism.
You can perceive new impression (impression also in French) on the 27th of April at 19:00 on Zoom platform on the condition of prior registration.
Бібліотека КПІ
27 квітня 2021 р., 19:00
читати далі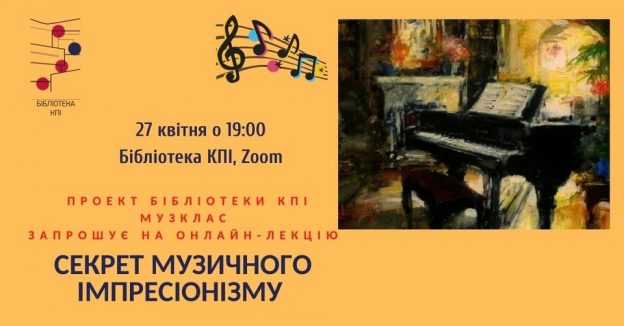 22/04
We continue to update authors' profiles!
Within the framework of event for researchers «Clean' Thursday» we invite you to the webinar «Scopus ID: good when it is one, and what to do with the rest».
22nd April at 16:00.
Get to know more on how to:
Update and merge authors' profiles in Scopus;

Catch up «lost» citation;

Add

add to the database a publication that was accidentally not included in Scopus, although the journal is indexed;

Choose edition for publication in journals included in Scopus;

Distinguish author's profile from the researcher's own cabinet in Scopus.
Register and join!
Бібліотека КПІ
22 квітня 2021 р., 16:00
читати далі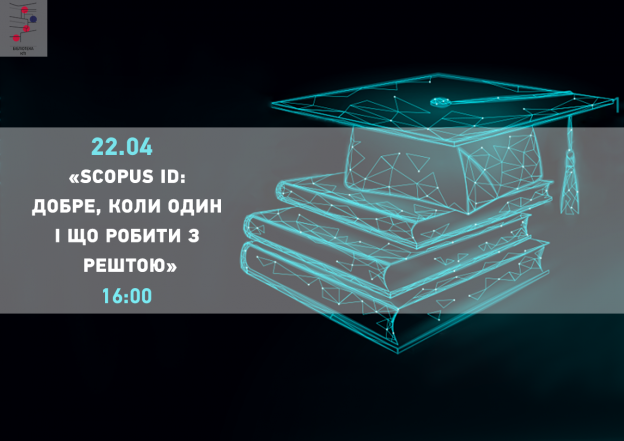 21/04
We continue meetings of Tea club. This time we are going to talk about European tea brands. Of course, about the oldest ones, because we are interested in history!
And also we want to find out products of which tea businesses stay popular nowadays.
The most famous, of course, are English tea brands, but in Europe not only Great Britain loves to drink a cup of aromatic beverage…
So we are waiting for you on Wednesday, 21st of April at 19:00.
We ask you to register in advance via the link.
Link to the Zoom conference will come to your email in two hours before lecture.
And traditionally we advise you to take with you to the meeting tea, cakes (if you want), pen and notebook. We are looking forward for meeting the guests!
Бібліотека КПІ
21 квітня 2021 р., 19:00
читати далі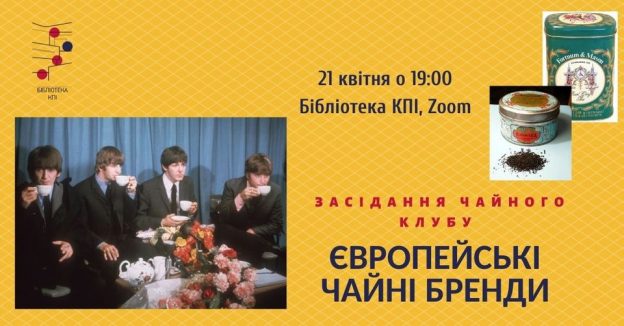 21/04
Friends!
Public discussion of KPI Library Strategy 2021-2025 is soon already!
We invite you on 21st of April at 15:00 to talk about how, where, and, what is main, for what and for whom we are moving forward every day?
Registration via the link.
You will learn why our Strategy is not only pretty words on the paper, but also a live and effective signpost for the Library team.
We will compare our watches and compasses with you again, share what strategic directions and prospects we have.
We promise that we have planned not a formal event but a dialogue about practical changes and certain steps.
We will sincerely tell about new projects, budget opportunities and available resources. 
The library works for you and is waiting for any questions and feedback. 
Librarians are ready to respond with interest and enthusiasm. 
Be sure to join!
Бібліотека КПІ
21 квітня 2021 р., 15:00
читати далі