Announcements
06/10
KPI Library and the Ukrainian Library Association would like to invite you to participate in The II International Scientific and Practical Conference "Strategy Development of Libraries: from Idea to Implementation" , which will be held on 2-3 April 2020 in Kyiv.
KPI Library
6-9 жовтня 2020 р., 09:00
читати далі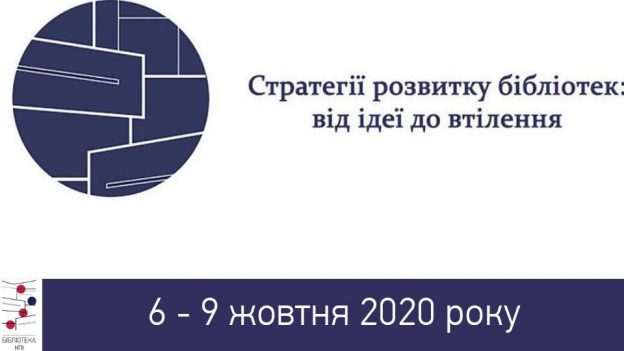 30/09
Dear friends!
All-Ukrainian library day is on the 30 th of September!
We invite you on this day – September, 30, 15:00 – to the online meeting «Library with you: KPI Library Strategy 2017-2020».
Four years ago we presented you the Strategy of our Library. Now we will share our achievements and challenges: how, where to, and, most important, for what and for whom we go forward all those years. You will get to know whether our strategy is only beautiful words on the paper, or live, working signpost for the KPI Library team.
That meeting is a possibility for us to check your and our clocks and compasses, share plans for the future, hear your thoughts. We work for you and we are interested in being the dream library in your eyes.
Join the discussion #TogetherWithLibrary.
Register via link.
#LibraryTogetherWithYou
Zoom-конференція
30 вересня 2020 р., 15:00
читати далі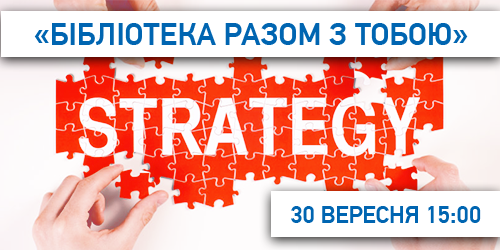 01/09
Friends, we all have what to celebrate!
On the 1st of September 1980, the KPI Library building was opened.
From this date, we start counting the time of Library functioning in one space built by the individual project and on the initiative of the head of the institute H.I. Denysenko, whom the institute is named after now.
KPI Library was planned as a synthesis of book, architecture, art, and new technologies. Its building is situated in the center of campus at the Square of Knowledge. 40 years of changes,
initiatives, and history of thousands of people who were brought to the KPI Library by destiny. Now the Library works for everyone and is always happy to support your development. Its activity is our common interest and achievement.
So we congratulate us all and invite you to discuss memories and Library perspectives. We have what to recall and what to tell about.
Please register via the link and join us!
Place: ZOOM platform
Time: 1st September, 15:00
To become speaker of the event: write to Miroshnychenko Maryna Oleksandrivna at  marinamarina.mm60@gmail.com  or call the number +38 (044) 204-97-24
Бібліотека КПІ
01 вересня 2020 р., 15:00
читати далі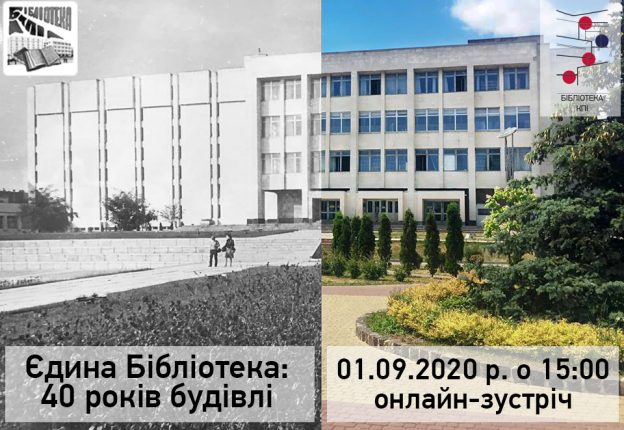 07/07
How about a travel to the Moon next week?
The trip will be headed by lecturer and earth satellite guide Iuliana Kuznetsova, the researcher of Main Astronomical Observatory of NAS of Ukraine.
During the online lecture and travel we will receive answers to the questions:
what is the value and practical use of the Moon for the people of Earth?
what is on the other side of our Orb of Night;
how many research expeditions have been sent to the Moon and what interesting they brought from there to Earth?
is the life existence possible on Moon surface or beneath it, and why humanity needs Moon
colonization?
So, if you are tired of the heat and quarantine on planet Earth, welcome to explore the Moon with us!
Meet us here.
Conference identifier: 824 9980 7776
Password: Lib2020
Zoom-conference
07 липня 2020 р., 17:00
читати далі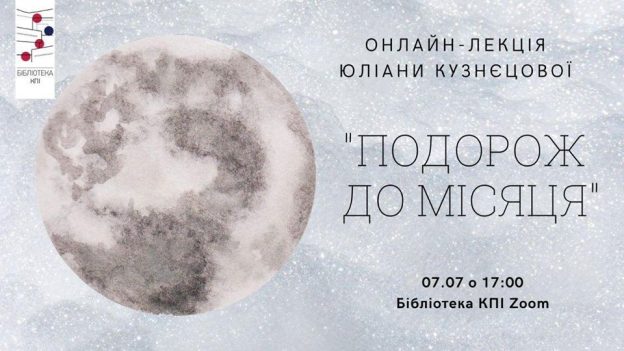 25/06
How long it was that you opened the Constitution of Ukraine? And when did you read it thoroughly? Long ago?
Then the librarians run to rescue you! To the Constitution Day in Ukraine we organize Public readings of this extremely important document and invite you to join online-marathon. Constitution will be read by the librarians from different corners of Ukraine: from small public
to large, national libraries.
So we will meet on the 25th of June, at 11:00 in zoom-conference by the link.
Conference identifier: 719 157 3422
Password: Lib20
Join us and remember, that maximal number of participants is 100 people.
For those who will not be able to join we will save the video.
Zoom-conference
25 червня 2020 р., 11:00
читати далі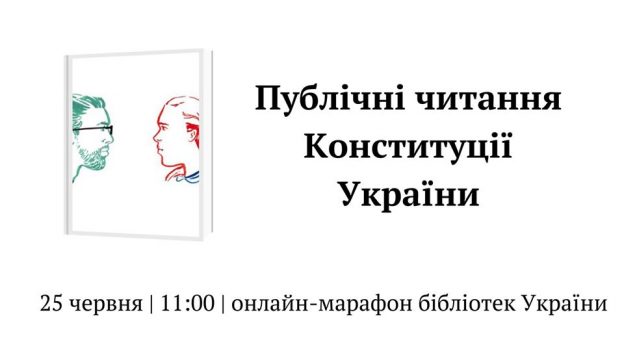 24/06
Webinar cycle «Researcher academic integrity» gains momentum!
On the 24th of June 2020 at 11 a.m. a meeting will be held for the researchers, postgraduates, young scientists, and everyone interested in the topic "How not to die in the thickets of journal editions" that will consider dishonesty in publication activity.
Join and get to know more about:
process of choosing an academic journal for publication;
evaluation criteria of the article level by reviewers;
informal things that attract the attention of the reviewers;
life-hacks of young scientists to guarantee a successful review of the article (apart from the high academic level, of course).
Webinar speaker: Serhiy Kozmenko, Doctor of economic sciences, co-founder of the publishing
company «Business Perspectives».
The webinar will be in the format of the interview, so prepare interesting and even provocative
questions.
Registration till 16:30 of 23rd of June via the link.
Бібліотека КПІ
24 червня 2020 р., 11:00
читати далі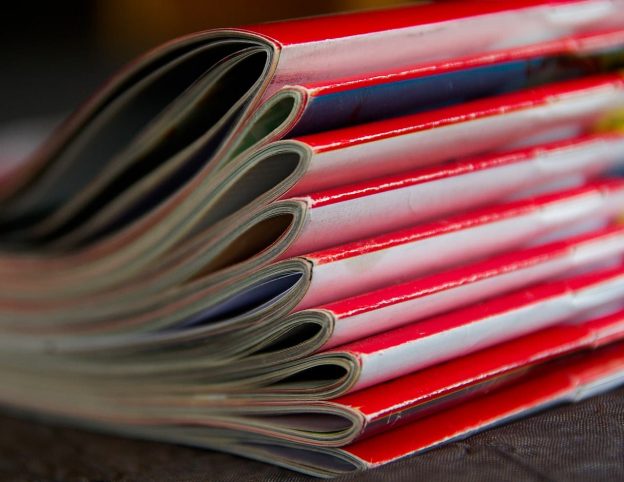 09/06
«On the history of engineering education» is the theme of the next lecture of the historical cycle Think about it.
It will be interesting to think together about:
history of engineering in higher education in different countries around the world;
factors that influenced the development of engineering profession;
distance that divides in time first engineering constructions and inventions from the appearance of first special engineering schools;
phenomenal composition of the mind of the legendary and prominent engineers of the past.
All that and some more we will discuss during the online meeting on Tuesday, 9 of June, at 17:00.
Maryna Miroshnychenko, the foundator of educational project «Historical studies», the head of the rare and valuable books department of KPI Library will be the speaker.
Conference identifier: 895 6360 1028
Password: Lib20
Lecture will definitely be useful for the experienced engineers as well as for those who only plan to enter the engineering faculty. And also to the historians, local historians, experts in higher education.
Come and visit this travel in time with special atmosphere.
Zoom-conference
09 червня 2020 р., 17:00
читати далі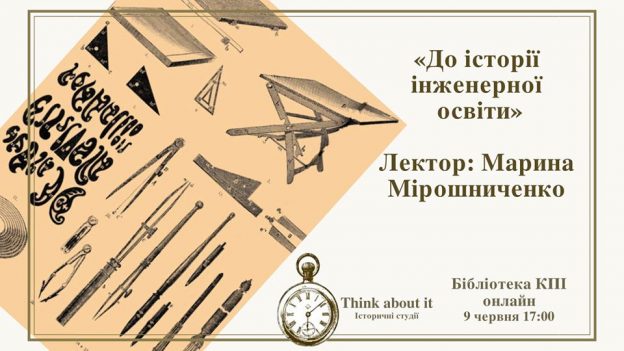 20/05
The last meeting of Library KPI marathon of societies has chemistry vector and promises to be interesting for the students as well as for the teachers!
On 20 May at 18:00 docent of electrochemical production technology department, Heorhiy Vasyliev will tell about chemical KPI society.
In zoom-conference we will hear about:
engaging students into the scientific work;

possibility to realize own ideas in the field of chemistry;

main directions of students' scientific work within the framework of the clubs;

how to get into the club and why chemistry is interesting and perspective.
Conference identifier: 856 0931 5876
Password: Library20
Zoom-conference
20 травня 2020 р., 18:00
читати далі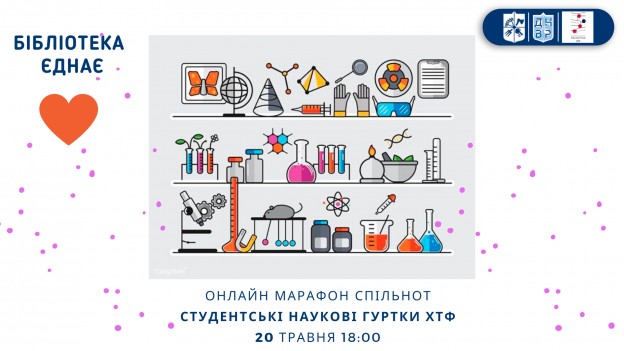 21/05
We invite you to the presentation of ecological projects of the university libraries.
We will talk to the:  Library of Sumy state university Бібліотека Сумського державного університету / SUMDU Library, Бібліотека КПІ / KPI Library, club ЕКО «ЛОТОС» of College of economics, law and informational technologies.
We will discuss questions:
what to begin with?

which activities can implement  «green» library?

what is «green» university? and more.
Event is appointed on the 21 May at 12:00 in zoom and with livestream at the page Movement  «Green libraries» in Ukraine Рух «Зелені бібліотеки» в Україні.
Register in the form.
Zoom-conference
21 травня 2020 р., 12:00
читати далі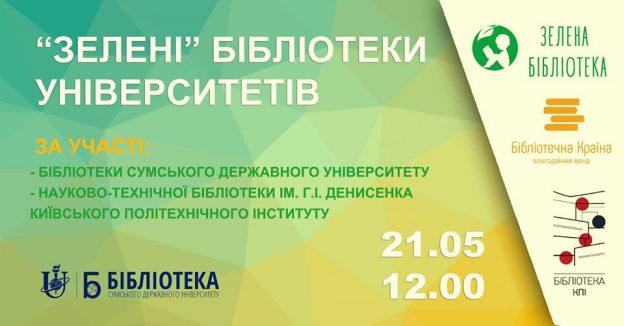 21/05
You want all together and in one vacation? You desire to understand what in traveling attracts you the most? You want receive maximum impressions for the money you spend? Then you should go to Tenerife!
That island is a pearl not only out of Canarian islands, but out of all the islands of Atlantics. Tenerife is very hospitable and has attractions for everyone: sunny beaches and warm ocean, gastronomic specialties of Mediterranean cuisine, fresh fruits, surfing, paragliding, night life, picturesque landscapes, mountains, tracking, ancient forests.
That is Tenerife where highly rated Hollywood movies are shot. Here you can ride rapid and quite dangerous serpentinous descents. Want to walk over the clouds? You are welcome! And those are not the all the advantages of the island.
A trip to Tenerife was spontaneous idea of Dmytro Karpov, and in result that travel became one of the best in life. That experience Dmytro will gladly share at the online-meeting that will take place on 21 May at 19:00. We will see the most beautiful locations, how and when to get them, preparation, aspects of organization, personal recommendations, and stories and fuck-ups that happened at the island.
You can register via Messenger.
Or with the website of Evening school of traveling.
Online-meeting
21 травня 2020 р., 19:00
читати далі