Announcements
10/11
10 of November – International Day of Science. Ofcourse, KPI Scientific and Technical Library could not stand off.
So we invite you to the lecture «Musk's batteriesand other super-accumulators» (from the lecture cycle «Popular talks about the science»).
Speaker – professor of Chemical Technology Faculty, Doctor of Chemical Sciences, docent Heorhiy Sokolskyi.
About what will we talk? About the history of invention and accumulators mode of operation, about the laboratory-based work on accumulators of future generation, and about being eco-friendly.
Lecture is online, registration needed.
Lecture is not recorded. Get ready with your questions!
Бібліотека КПІ
10 листопада 2020 р., 19:00
читати далі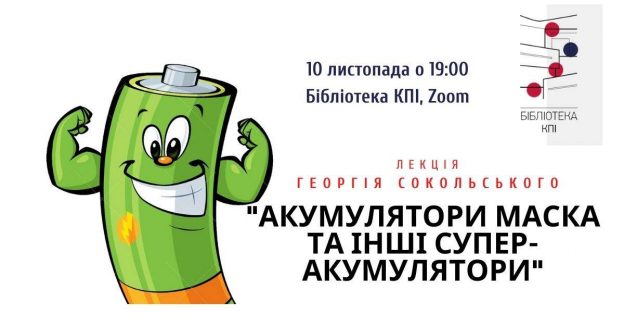 09/11
«And now prepare your pen and paper. We are writing dictation!»
Amazing! Your hands used to sweat, and you wanted to run away from the lesson hearing that phrase before, but the next week it will unite thousands of Ukrainians around the world!
On the 9th of November on the Day of Ukrainian Language and Writing the XX Radio Dictation of Unity will take place.
Special project organized by the Suspilne Radio gathers people who love native language and are proud of being Ukrainians!
The event will start in studio of UA Pershyi, and also in the air of UA: Ukrainian Radio and UA: Radio Culture. The written works will be accepted online and offline. The letter on the paper can be sent to the address: Kyiv city, Khreshchatyk street, 26, 01001. It is important that postmark with the date sent was not later November, 10. Online works can be applied to the e-mail rd@ukr.radio .
KPI Library traditionally joins writing #radiodictation2020!
At 8:45 on this day we gather on the Zoom platform KPI community, friends and partners. We will tell the rules, support with a smile and TOGETHER write anniversary dictation!
Register via link and join us!
Бібліотека КПІ
09 листопада 2020 р., 08:45
читати далі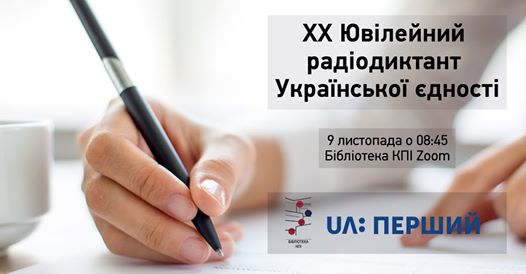 22/10
Within the framework of International Open Access Week we invite students and postgraduate students of Igor Sikorsky KPI to join the workshop «How to search information for education and research in open accessі» on 22 of October 2020 at 15:00.
Why should you come:
learn to save time you spend on searching information;
have a look at institutional repositories where you can search documents full
texts 24/7;
find out in which electronic archives quality information content is waiting for
you while you spend hours browsing through over 100 000 search results in
Google;
hear how to search information and save search results in Google Academy;
learn to separate books and articles of commercial publishing houses in open
access quickly.
See you online.
Registration form.
Бібліотека КПІ
22 жовтня 2020 р., 15:00
читати далі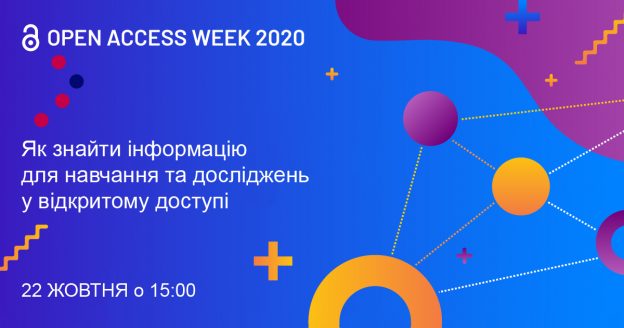 20/10
It is bright and hot, but has no moons.
It is called 'sister' of the Earth. But are they
relatives indeed?
What else is hiding behind its clouds «Mysterious planet Venus» ? The next week we will
get closer to the answer!
Online-lecture of our good fellow, research scientist of the Main Astronomy Observatory of
National Academy of Sciences of Ukraine Iuliana Kuznetsova will give answers to lots of your questions. One of them – is life possible on Venus?
20 th October, 19:00 in Zoom.
To provide enough places for the passengers of our starship, we ask you to register. The lecture will not be recorded.
Registration via link.
We will send link to the lecture in Zoom the day before the event to your e-mail.
Бібліотека КПІ
20 жовтня 2020 р., 19:00
читати далі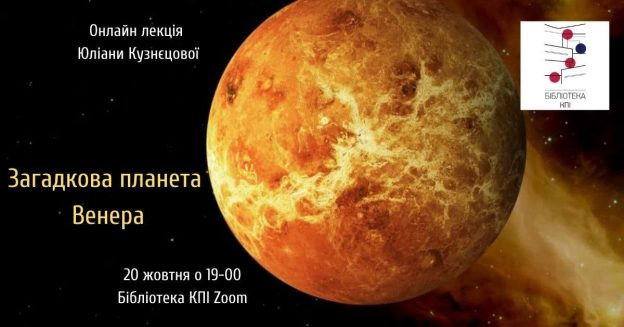 19/10
KPI Library invites the representatives of academic periodicals, representatives of scientific conferences organizational committees on 19 th of October 2020 at 15:00 to visit scientific online seminar «Strategy development of academic publication».
Key aspects:
signs and criteria of quality journals;
technical elements of scientific journal: website, ISSN, DOI;
part, rights and obligations of author, peer-reviewers, members of editorial board;
how to calculate citation number that has journal which is not indexed in Web of Science Core Collection;
what journals to look up to, what can you borrow for the development of own journal;
where and why journal has to be indexed, and what you should avoid;
criteria and procedure of journal selection to Web of Science Core Collection;
answers to the questions from the registration forms.
Presenter: Iryna Tykhonkova, PhD, Customer Education and Analytical Resources Specialist, Clarivate Analytics.
Participation is free. All the registered participants will receive on e-mail invitation with a link to the event.
Registration via link
Бібліотека КПІ
19 жовтня 2020 р., 15:00
читати далі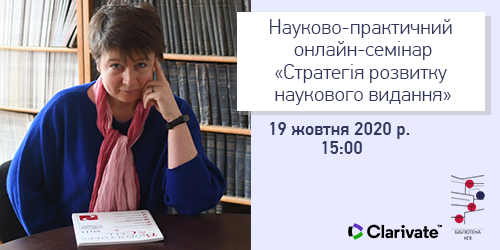 06/10
KPI Library and the Ukrainian Library Association would like to invite you to participate in The II International Scientific and Practical Conference "Strategy Development of Libraries: from Idea to Implementation" , which will be held on 2-3 April 2020 in Kyiv.
KPI Library
6-9 жовтня 2020 р., 09:00
читати далі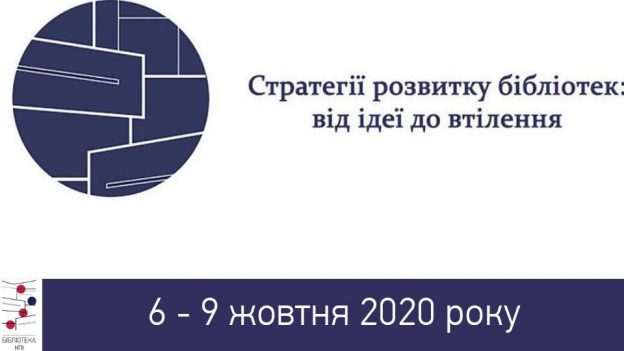 30/09
Dear friends!
All-Ukrainian library day is on the 30 th of September!
We invite you on this day – September, 30, 15:00 – to the online meeting «Library with you: KPI Library Strategy 2017-2020».
Four years ago we presented you the Strategy of our Library. Now we will share our achievements and challenges: how, where to, and, most important, for what and for whom we go forward all those years. You will get to know whether our strategy is only beautiful words on the paper, or live, working signpost for the KPI Library team.
That meeting is a possibility for us to check your and our clocks and compasses, share plans for the future, hear your thoughts. We work for you and we are interested in being the dream library in your eyes.
Join the discussion #TogetherWithLibrary.
Register via link.
#LibraryTogetherWithYou
Zoom-конференція
30 вересня 2020 р., 15:00
читати далі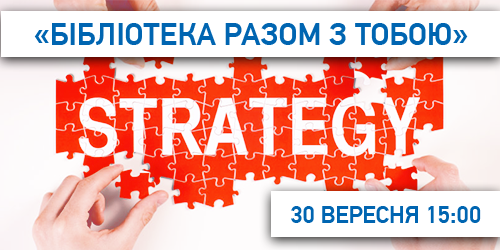 01/09
Friends, we all have what to celebrate!
On the 1st of September 1980, the KPI Library building was opened.
From this date, we start counting the time of Library functioning in one space built by the individual project and on the initiative of the head of the institute H.I. Denysenko, whom the institute is named after now.
KPI Library was planned as a synthesis of book, architecture, art, and new technologies. Its building is situated in the center of campus at the Square of Knowledge. 40 years of changes,
initiatives, and history of thousands of people who were brought to the KPI Library by destiny. Now the Library works for everyone and is always happy to support your development. Its activity is our common interest and achievement.
So we congratulate us all and invite you to discuss memories and Library perspectives. We have what to recall and what to tell about.
Please register via the link and join us!
Place: ZOOM platform
Time: 1st September, 15:00
To become speaker of the event: write to Miroshnychenko Maryna Oleksandrivna at  marinamarina.mm60@gmail.com  or call the number +38 (044) 204-97-24
Бібліотека КПІ
01 вересня 2020 р., 15:00
читати далі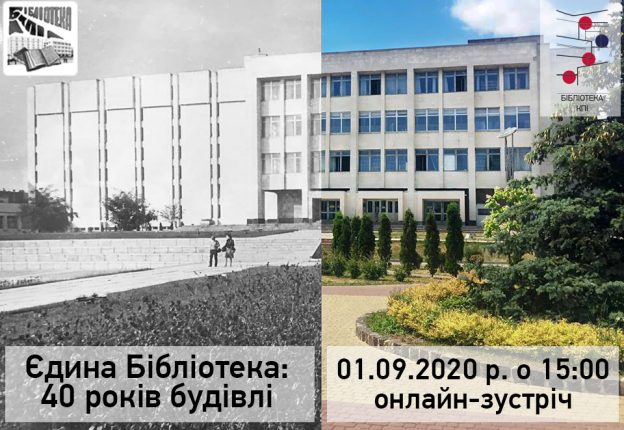 07/07
How about a travel to the Moon next week?
The trip will be headed by lecturer and earth satellite guide Iuliana Kuznetsova, the researcher of Main Astronomical Observatory of NAS of Ukraine.
During the online lecture and travel we will receive answers to the questions:
what is the value and practical use of the Moon for the people of Earth?
what is on the other side of our Orb of Night;
how many research expeditions have been sent to the Moon and what interesting they brought from there to Earth?
is the life existence possible on Moon surface or beneath it, and why humanity needs Moon
colonization?
So, if you are tired of the heat and quarantine on planet Earth, welcome to explore the Moon with us!
Meet us here.
Conference identifier: 824 9980 7776
Password: Lib2020
Zoom-conference
07 липня 2020 р., 17:00
читати далі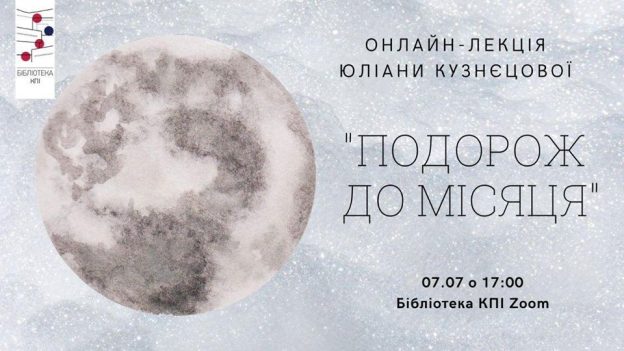 25/06
How long it was that you opened the Constitution of Ukraine? And when did you read it thoroughly? Long ago?
Then the librarians run to rescue you! To the Constitution Day in Ukraine we organize Public readings of this extremely important document and invite you to join online-marathon. Constitution will be read by the librarians from different corners of Ukraine: from small public
to large, national libraries.
So we will meet on the 25th of June, at 11:00 in zoom-conference by the link.
Conference identifier: 719 157 3422
Password: Lib20
Join us and remember, that maximal number of participants is 100 people.
For those who will not be able to join we will save the video.
Zoom-conference
25 червня 2020 р., 11:00
читати далі